Soldier Michael Pritchard shot in 'radio blackspot'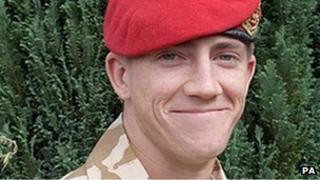 A soldier who may have been killled by a British sniper in Afghanistan was in a communications blackspot when he died, an inquest has heard.
L/Cpl Michael Pritchard, of the 4th Regiment, Royal Military Police, was killed in Sangin in December 2009.
The soldier, from East Sussex, had been deployed to prevent insurgents from placing improvised explosive devices.
He had tried to radio colleagues about shots being fired close to him before he was killed, the inquest heard.
Rifleman Jeffrey Stanley, who was with L/Cpl Pritchard, told the inquest that he heard over the radio that soldiers in a remote observation post, known as a sangar, could see people on the road.
He said he then heard over the radio that permission had been given to fire warning shots.
'Sniper rifle'
He said: "There were small bursts of automatic fire, possibly three rounds. They felt really close and I could feel them going over our heads.
"Me and L/Cpl Pritchard took cover. I felt these were not warning shots and communicated this over the radio."
Rifleman Stanley said he was told they were warning shots and that they had not been fired anywhere near them.
Further shots were fired, which according to Rifleman Stanley, sounded like those from a sniper rifle. One of these hit L/Cpl Pritchard.
L/Cpl Pritchard, who was born in Maidstone, in Kent, but lived in Eastbourne, suffered a fatal gunshot wound to his side.
Rifleman Stanley said the radio went down just before the three final rounds were fired and he only got it working just before L/Cpl Pritchard was shot.
Captain Thomas Foulkes-Arnold, who was a lieutenant with 4 Rifles at the time, said he did not hear any of Rifleman Stanley's transmissions while he was in the operations room.
He said the communications system was down for about 20 minutes if not longer
He added that if Rifleman Stanley did receive a response to his messages "that response was not coming from me".
The inquest continues.