Birmingham food bank helping mums-to-be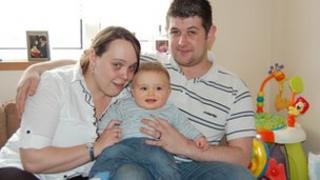 The news has been full of stories about the growth of food banks, but what is it like to be pregnant and hungry?
In Birmingham, a non-profit organisation has set up a food bank specifically to help mums-to-be after outreach workers reported a number of their clients were skipping meals.
Malnutrition is serious for anyone but in pregnancy it can lead to a range of complications for mother and baby.
Gateway Family Services said it had identified several reasons why women, in particular, may fall victim to food poverty.
Chief executive Vicki Fitzgerald said some are between sources of income, for example, when changing jobs or waiting to receive benefits.
Others may be new to the UK and unsure how to access support services, or their partners may have lost their jobs.
Domestic violence can also be a factor, especially if their partner is in control of the finances.
'Lifeline'
Finally, problems also arise when there is a delay in registering a birth, which mean a family is not immediately entitled to child benefit or tax credits.
Claire, not her real name, was 16 when her family took her to Pakistan and tried to force her into an arranged marriage.
When she returned to the UK, her parents disowned her and she struggled to support herself. She also fell victim to domestic abuse.
Claire was eventually referred to Gateway by her GP when she became pregnant last year.
Now 20, she said: "I had Jobseekers Allowance and housing benefit but there were days and days where I wasn't eating.
"My outreach worker was my lifeline. I had £100 every two weeks, but £20 would go on gas, £10 on electricity and then with food and travel it wasn't enough."
Two months into her pregnancy she suffered a miscarriage, but Gateway continued to support her.
Infant mortality
"There are a lot more people out there like me than people think.
"Anyone who met me would have thought I was OK, but I was going back to a flat with no gas or electricity and nothing to eat."
Lynette Oyaide, a pregnancy outreach worker, said Gateway identified those in need of support and then worked with a network of food banks across the city to get supplies.
"When we first started the service you didn't really hear about people not having access to enough food - it was a problem for the homeless but not people on benefits or in work."
Gateway was set up after a study found Birmingham had the worst infant mortality rate in Europe.
In 2002, it was 9.7 per 1,000 babies, compared with 5.3 in England and Wales as a whole. By 2008, the rate nationally fell to 4.6, while Birmingham dropped to 7.7.
Vicki Fitzgerald said: "Our work targets the most disadvantaged areas where we try to address the social issues that can affect infant mortality.
"On average we help 800 women a year.
"The system isn't helping these women so it's our job to prop up the system."
A spokesman for the Department for Work and Pensions said processing times for benefits remained consistent with around 80% paid out within 16 days.
Crisis loans are paid out within two days and Job Centre Plus directs those in need to food banks.
He said: "There are no huge delays in benefit payments.
"People do not necessarily come to food banks because of benefit delays, they can have all kinds of problems that lead to them facing financial hardship."
But benefit delays did cause problems for Michaela and Thomas Solloway.
'Bridge the gap'
Their son Michael was born on 7 October, but they were unable to register his birth until 2 November because he was kept in hospital for a week and there was a backlog of registrations once he was discharged.
Birmingham City Council admitted there were difficulties, but said extra temporary staff had been taken on to deal with a rise in births and a change to the system which means births can now only be registered by appointment.
The Solloways had both lost their jobs and had £105 a week to live on.
Michaela said: "At one point we had £5 left and no food, electricity or gas."
She added: "There is no help to bridge the gap.
"There needs to be something in place while you are waiting to register the birth and waiting to receive benefits."