Fire service merger for Cambridgeshire and Suffolk considered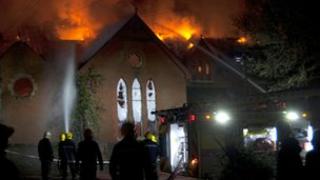 A proposal for a full merger of Cambridgeshire and Suffolk's fire services is being considered.
It is one of two options going before the two fire authorities - the other being more collaboration as happens with the existing shared control room.
The authorities will decide whether to produce full business cases for the options, but no final decisions would be made until 2013.
The Fire Brigades Union said front-line services had to be protected.
Both fire services are facing 12% cuts to their budgets over four years.
Cambridgeshire, with an annual budget of £29m, is going to lose 25 full-time posts over the next year, leaving it with about 250 firefighters.
'Very challenging'
Suffolk, which has an annual budget of £22.5m, has already seen its number of full-time firefighters fall from 275 to 224, with existing plans to cut it to 209.
Mark Hardingham, Suffolk's deputy chief fire officer, said the financial position over the next five years was "still looking very challenging".
"This piece of work is all about protecting front-line services, so when you put in a 999 call the firefighters that respond will be your local firefighters," he said.
"At this stage it's about doing the detailed work to see what that might look and feel like across those two options.
"If there is a recommendation about voluntary combination [full merger], then nothing would take place without very detailed public consultation."
Keven Napier, secretary for the Fire Brigades Union in Cambridgeshire, said: "If a merger is to be investigated, such a merger can only offer efficiency savings at senior manager and corporate level.
"We would seek to see no detrimental delivery to the front-line services that we provide to the public of Cambridgeshire, Peterborough and Suffolk."
Suffolk County Council's cabinet meets next Tuesday, while the Cambridgeshire and Peterborough Fire Authority's next meeting is on 24 May.