Labour savours victories in Nottingham and Derby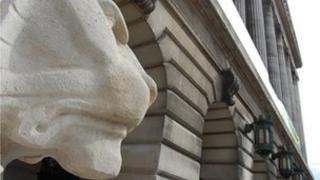 Labour jubilation in Derby. Labour relief in Nottingham. Refreshed soul searching among Conservatives and Liberal Democrats.
That's the political outcome in the East Midlands to the verdict of the voters.
In Derby, the Conservative-Lib Dem coalition that had run the city council was ousted.
For the first time in six years, Labour was returned to power with an overall majority that was higher than its own expectations.
It set a target of winning four more seats. On the night, it bagged half a dozen, mostly at the expense of the Lib Dems.
Tory recriminations
Derby's new city council leader Paul Bayliss is in no doubt of the reason for his party's resounding victory.
"People think the coalition government's policies are terrible for this city and the country. People have come out and voted that way," he told me.
For the Conservatives, the recriminations have only just started.
"Derby sends a message that Cameron and his government need to get a grip," said Councillor Philip Hickson, the council's leader now out of office.
He's been barbed in his criticism of the government before.
He was furious that Bombardier, the city-based train makers, lost out on a multi-million pound contract to Siemens of Germany.
"There's a feeling that the government is being buffeted by events and is not in charge of them.
"There was the pasty tax, the granny tax and a feeling that the government is out of touch," he added.
Elected mayors
In Nottingham, there was also Labour satisfaction.
A referendum vote on having a directly elected city mayor was clearly rejected.
Fifty seven per cent were against the idea, although the turn-out was a derisory 24%.
"I'm pleased with the result," said council leader, Labour's Jon Collins.
"But frankly, we could have done without spending £300,000 of taxpayers' money that could have been put into essential services."
Nottingham's Labour leadership took considerable flak from the government over its robust opposition to city mayors.
There were claims that rejection would endanger Nottingham's position among the premiership of big English cities.
It's now in good company with the voters of Manchester and Coventry, who've also given elected city mayors the thumbs down.
The question is whether the government will leave the matter alone.
The Communities Secretary Eric Pickles has played with Nottingham Labour like an irritated dog with a bone.
As the referendum result came through in the early hours, he went into "attack dog" mode and lambasted Labour's negative referendum campaigning to secure a no vote.
But it's Nottingham Labour that may have emerged strengthened.
Said Jon Collins: "This was a referendum imposed on us by the coalition government and clearly local people didn't want it."
Labour in Nottingham and Derby will savour their victories.
They will have further battles to come.
All the latest election results are available at bbc.co.uk/vote2012