Dr Martin Warner is appointed new Bishop of Chichester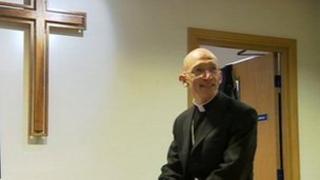 The Bishop of Whitby the Right Reverend Dr Martin Warner has been appointed as the new Bishop of Chichester.
Dr Warner, 53, takes over from the Right Reverend Dr John Hind who retired in April after leading the diocese since 2001.
He said serving Sussex would be a "daunting and exciting challenge".
Last year the Archbishop of Canterbury launched an investigation into child protection failings in churches in Sussex.
Dr Warner said: "It is a daunting and exciting challenge to be asked to serve the people of Sussex as the next Bishop of Chichester.
"I look forward very much to learning more about the mission in which we shall be engaging together, though it will be a big wrench leaving the North East so soon."
'Challenging times'
When asked about moves to repair the repution of the Diocese of Chichester, he said: "Obviously that's still work in progress and until I'm in post there will be a lot I can't yet do.
"But what I do see, looking in from outside, is that a lot of work has been done over quite a long period of time, I think, to ensure that the very best safeguards are in place in terms of policy and to ensure the implementation of policies is rigorous.
"So I think we can say in the diocese of Chichester we are determined that people will feel safe and be safe."
He added: "We certainly don't in anyway want to diminish the pain of people that is inherited, that has to be respected, but I think I do want to say that this is by no means the only thing to say about the life of the Diocese of Chichester."
The appointment has been criticised by pro-women bishops group Women and the Church (Watch).
Rachel Weir said: "The decision to appoint another diocesan bishop to Chichester who will not ordain women will cause widespread disappointment throughout the diocese and across the rest of the Church of England.
"After a full consultation, many in the diocese were hoping to work with a new bishop who follows normal practice in the Church of England in accepting ordained women on the same terms as men."
Dr Warner, who is a keen cyclist and has written five books, was appointed Bishop of Whitby in 2010.
He has also served as a deacon and priest at Exeter Cathedral, a team vicar in Leicester, Honorary Canon of Norwich and a residentiary Canon of St Paul's Cathedral in London.
The Very Reverend Nicholas Frayling, Dean of Chichester, said: "These are challenging times for the Church and for its bishops.
"The dean and chapter and all at the cathedral look forward to welcoming Bishop Martin and assure him of our prayers and good wishes as he prepares for his new ministry in Chichester."
In 2011 Dr Warner's predecessor, Dr Hind, apologised for the church's past mistakes in failing to stop the abuse of children by a paedophile priest in the 1970s and 80s.
A review found significant failings in the church which ordained Roy Cotton, despite him being convicted of child abuse.
In March, Sussex Police arrested retired priests, Canon Gordon Rideout, 73, and Robert Coles, 70, on suspicion of sexually abusing children and young men. Both are on police bail pending further inquiries.