East Midlands Trains drivers strike again over pensions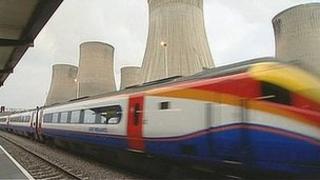 Rail passengers are being warned to expect delays as the majority of drivers working for East Midlands Trains stage a second strike.
Train drivers' union Aslef said the strikes will continue through May unless a dispute over pensions is resolved.
A limited service is being run on the East Midlands Trains route and replacement buses are being provided.
People can use advance tickets on other operators' services or get refunds.
Ian Smith, operations director for East Midlands Trains, said: "We delivered a good service for our passengers on 1 May despite the Aslef industrial action, and managed to run even more services than we had previously advertised.
"In total, we ran over 100 train services and more than 200 replacement bus services."
Passengers are being advised to check the East Midlands Trains website for information on services.
Further strikes are planned for 8, 10, 15 and 17 May.
The union said it represents 460 drivers working for East Midlands Trains, which is about 95% of the total drivers employed.
East Midlands Trains wants to reduce pension fund contributions for both workers and the firm from July.
Aslef said its members want to maintain the current contributions, as they do not want to "cheapen" the fund.
The train company said the change would not affect pension benefits but the union said the calculations were unreliable.