Oil and obesity: Frying lessons for fast food workers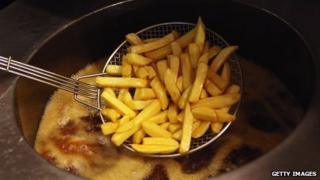 Takeaway owners in London have been having lessons in how to make fried food healthier.
Free training workshops were organised by Wandsworth Council in an effort to lower the fat content in fried food served around the borough.
The Federation of Fish Friers, the national body for fish and chip shop owners, taught the course to 40 people from a range of businesses.
The workshops were funded through a grant from the local PCT.
The course is part of a wider project called the Healthier Catering Commitment aimed at tackling obesity levels.
Fat and salt
It is the second time the council has held the workshops after it organised a similar course three years ago.
Helen Clark, area manager for the council's environment health food team, said: "In 2007 in south-west London, a survey was conducted of fish and chip nutrition to establish gram for gram the different levels of fat and salt in different meals.
"We then wanted to get the levels down as low as possible by looking at how the food is prepared.
"One issue is the way you fry the food which can change how much oil it absorbs."
She said they had decided to organise workshops as and when funding was available to teach businesses these skills.
The council's environmental health department asked the federation, which is based in Leeds, to run the courses because it felt businesses would be more receptive to learning from other people in the industry.
Thicker chips
The course teaches people how to choose the right oil and manage it to reduce the amount they use.
As well as reducing the fat per serving it also has other benefits.
Mark Drummond, vice president of the Federation of Fish Friers, said: "If the oil is in a good condition then the batter will be crispy and taste nicer so you increase your levels of trade.
"You also reduce waste so you increase your profits."
He said a lot of takeaway owners thought they had to offer salads to make a meal healthy but that was not what customers wanted.
"If you order fish and chips you don't want a side salad so it's about making the meal (as it is) as healthy as possible," he said.
"One thing we teach is that thicker chips absorb less oil so changing the blade on the chipper can mean the chips absorb less fat."
Mr Drummond, who ran the Wandsworth courses, has his own fish and chip shop in Bradford.
He said the federation taught about 200 people a year at its training school but it had also run other courses in London on behalf of local authorities.
Long term, Wandsworth Council is considering two options depending on funding - the first is to train environmental health officers so they can teach the businesses they visit and the second is to run the courses centrally from one site for businesses across London.
Balanced diet
One person who went on the course is Akash Pateo, supervisor at the Chicken Cottage in Balham.
He said four members of staff went on the course to learn the healthy frying techniques.
"We went on it to help people's health," he said.
"It was a good course - we learnt how to increase the oil's life and check it so we know when to change it."
Mr Drummond said he had the nutrition of a meal of fish, chips and mushy peas at his own business analysed to find out the fat content.
He said the results were surprising, with fat levels and calories lower than many people expected.
"It contained 7.6% fat and was just less than 800 calories," he said.
"We're not saying people can eat it every day but that it can be ok as part of a balanced diet."