Nazi flag to be auctioned for an SAS commemorative window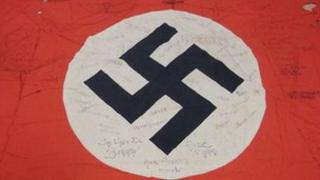 A Nazi flag, captured by the SAS in 1942, is to be auctioned to raise money for a commemorative window at the National Arboretum in Staffordshire.
The flag, signed by members of the SAS, was donated to the Allied Special Forces Association in 2001 by the family of Trooper Henry Mullen 1 SAS.
Trooper Mullen and 30 colleagues were executed by the Germans in July 1944 after being caught behind enemy lines.
It will be auctioned by Mullock's in Ludlow, Shropshire, on 16 October.
The stained glass window will be engraved with the names of SAS members who lost their lives in World War II.
Before the flag came into the possession of the Allied Special Forces Association, it was found by relatives of Trooper Mullen in the attic of the family home in Glasgow.
It is believed Trooper Mullen would have returned to UK in preparation for D-Day.
SAS Operation Bulbasket
Mike Colton secretary of the Herefordshire-based Secretary Allied Special Forces Association said: "This flag was possibly captured from a German mess during a raid by members of L Detachment (The Originals) in 1942 or by members of 1 SAS.
"He [Trooper Mullen] wasn't one of the Originals according to all the detail we have on the internet at the moment.
"It appears to have been signed by some of the Originals, such as Reg Seekings, Johnny Cooper and Warburton.
"Mullen's signature is on the flag, but this appears to have been highlighted later."
Mr Colton said that Trooper Mullen participated in SAS Operation Bulbasket and was dropped into France just after D-Day to help disrupt the German advance on the Normandy Invasion beaches.
Ban on sales
The 31 SAS soldiers were captured by the Germans and as prisoners of war were executed under Hitler's Commando Order.
In March, MPs called on the government to ban the sale of Nazi memorabilia after items belonging to Holocaust victims were sold at a public auction.
Nazi memorabilia sales are illegal in France, Germany, Austria and Hungary.
But a spokesman for Mullock's Auctioneers defended the sale, saying: "As far as we're concerned these items are a piece of history that was manufactured by the Germans.
"It is a very important thing and obviously with the Allied Special Forces Association, money is going to a good cause.
"The SAS was a very unique unit for the army. Whether they should have taken this souvenir is another matter, but someone else would have taken it."