Helicopter crews from Hampshire and Oxford in Afghanistan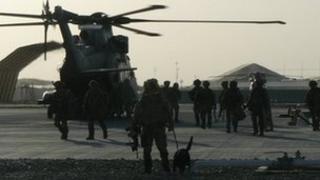 Helicopter crews based in Hampshire and Oxford have been playing a vital role in the conflict in Afghanistan.
The crews spend 10 weeks nearly 4,000 miles (6,400km) away from home based at Camp Bastion working in tough conditions with temperatures of over 40C (104F).
Three members of the Joint Helicopter Force describe their crucial roles in Afghanistan.
Capt Chris Leneghan flies the most sophisticated piece of kit in the Army's arsenal - the Apache, the only attack helicopter in service with the British Army.
Life and death
Equipped with a cannon, rocket and missiles, it plays a bodyguard role protecting the other helicopters and is used to target the insurgents.
He said: "I think I have the best job in the whole of Helmand.
"I get to fly around in an Apache attack helicopter and I can see the difference that my work is doing, I can see the direct influence that we are having on the battlefield as well as the Afghan people."
The job comes with making life and death decisions, he said: "If you're being deployed as an attack aviation pilot then you will be employed to place ammunitions on those targets, they will be struck and they will be killed.
"You reconcile it by virtue of the fact that it is an insurgent that is trying to kill our people or innocent civilians on the ground, therefore it is a choice between them or the insurgent, clearly it's a very easy decision to make."
Flying A&E
Providing life-saving care is anaesthetist Major Clare Park.
Based in an armour-protected Chinook helicopter from RAF Odiham in Hampshire, the equivalent of a flying A&E, she is part of the medical emergency response team (MERT).
Part of her job involves complex life-saving emergency surgery.
"Normally done in an anaesthetic room in a hospital that isn't vibrating and moving left or right," she said.
With short flight times, she said: "Procedures are quicker here. In five or six minutes we would give the anaesthetic, get blood into the patient as well as controlling the haemorrhage."
Flying at up to 185mph (298 km/h), 24 stretchers can be carried onboard where drugs are drawn up in pre-loaded syringes and stored in a cool box to save valuable time.
'Save countless lives'
For two and a half years RAF Benson's Merlin helicopters have been serving in Afghanistan.
Sent to reduce the number of troops travelling over land being vulnerable to roadside bombs, they fly thousands of soldiers in and out of conflict.
Weighing twice as much as a double decker bus, they carry 15 tonnes of cargo, or 24 fully equipped troops.
Flt Lt Charlie Young is a Merlin pilot based at RAF Benson in Oxfordshire on duty at Camp Bastion.
A typical day for him starts at first light with an operation to fly troops and search dogs to a suspected bomb making factory.
He said: "The idea is that we insert the troops - they are then going to stop the bomb maker from manufacturing IED's which hopefully will save however many countless lives in the future."
In the air for around five hours a day he then flies on "bus runs" - carrying freight and passengers around Helmand.
For the father of one, the start of a tour is always difficult, he said: "Saying goodbye to my son is hard because he's just becoming aware, he knows the dog's name, but not my name.
"I'm looking forward to a cuddle, he's just started walking I hear so I can't wait to see that."