New report highlights north-south divide among voters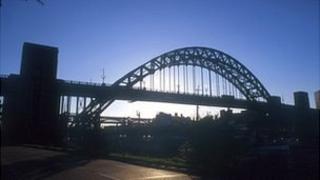 We're used to hearing about the economic divide but this week's local elections are likely to expose a continuing and perhaps growing north-south political divide.
We know from the 2010 General Election that Labour support is at a low ebb in the south, but equally we know that the Conservatives are still struggling to break through in large expanses of the north.
Research released this week tries to shed some light on the reasons behind the divide.
Think tank Policy Exchange used number crunching, polling and focus groups to examine whether where we live influences how we vote.
It found a north-south divide but a slightly more nuanced one.
'Chicken and egg'
Conservative support is alive in the north but mostly it's confined to rural areas. It's in the northern cities where they are struggling to mount any comeback.
The party was wiped out as an electoral force in Liverpool, Manchester, Sheffield, and Newcastle in the 90s, and there's little sign of recovery.
The Lib Dems have moved in to the vacuum, as the main opposition to Labour.
Policy Exchange then describes a "chicken and egg" situation for the Conservatives in those cities.
People won't vote Conservative because they don't believe they can win, and the Conservatives can't show they can win because people won't vote for them.
The party has fared better in cities such as Sunderland, Salford, Bradford and Leeds where their council representation wasn't completely wiped out.
Indeed, some of those saw a mini-revival in support during Labour's time in government.
The danger is that they could soon be on the retreat there if national polling is replicated in Thursday's local elections.
So what's behind this continuing malaise?
It would be easy to pin it all on Margaret Thatcher and the ongoing folk memory of what happened to the north's traditional industries in the 1980s.
But a Policy Exchange poll suggested that people in the north hold Margaret Thatcher in higher esteem as a PM than Gordon Brown. Only Tony Blair was narrowly rated more highly.
The polling did come up with some interesting perceptions on class, with northerners much more likely to describe themselves as working class than southerners.
It also suggested that many do still see the Conservatives as the party of the rich.
But it also found that Labour was ahead of the Conservatives in every social grouping in the north.
There also seemed to be a desire amongst northern voters for more MPs to come from working class roots.
Conservative supporters also felt their party did not have enough MPs from the north.
Investment plan
Perhaps unsurprisingly, the research also found that people were more likely to vote Labour in areas of high unemployment.
And some do feel that's the killer fact.
Fellow think tank IPPR North believes Conservative support won't revive until the government produces a credible plan to create jobs and prosperity in the north.
The government would argue they do have one, but IPPR North director Ed Cox disagrees.
He told BBC Radio 4's Today programme: "A recent You Gov poll put the Labour lead at 31 points in the north, so the Conservatives have got a mountain to climb if they want to win seats in the north again.
"They really need to bring forward a proper plan for jobs and investment in the north."
Polarised country
So why does this matter?
For a start, a polarised country isn't necessarily a good thing.
But there is also the self-interest of the two largest parties. If both end up ghettoised, we might end up with more inconclusive general elections.
It's hard to see how the Conservatives can get much stronger in the south, so the party needs to win over the north to get a parliamentary majority.
But of course Labour faces similar electoral problems in the south.
Outside London it's still struggling there, and it won't get into government by stacking up more votes in the north.
So when the parties start crunching the numbers from this year's local elections they will be poring over not only how many votes they won, but also where they won them.