Zurich Insurance to cut 342 jobs from its UK offices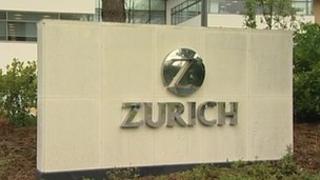 Zurich Insurance has confirmed it will cut 342 jobs at five of its UK offices.
The majority will be cut from its headquarters in Whiteley, Hampshire, with staff in Farnborough, Cardiff, Glasgow and Leeds also at risk.
The insurer also plans to cut another 51 jobs at its Indian call centre in Pune by 2014.
Zurich says the losses are the result of restructuring following the launch of a new online car insurance product and will start from next year.
It claims the impact will be minimised through redeployment, natural turnover and voluntary redundancies.
Karl Bedlow, Zurich personal lines managing director, said: "We recognise these changes mean difficult messages for some of our employees.
"However, we have to make sure we can flexibly adapt our operational model and processes to meet constantly changing market conditions."
The areas affected are customer services and claims including 163 posts in Whiteley, 113 in Cardiff, 39 in Glasgow, 14 in Farnborough and 13 in Leeds.