London 2012: Olympic photo ban 'unenforceable'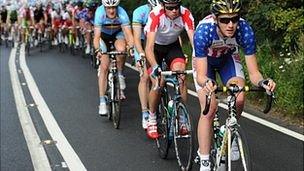 Olympic bosses have admitted their ban on spectators posting videos and images on websites will be unenforceable.
In the terms and conditions of ticket purchases for the London 2012 Games it states ticket holders cannot publish images, video or sound online.
However, Sir Keith Mills, deputy chairman of organisers Locog, said "we live in an internet world... and there's not much we can do about it".
He said a "common sense approach" would be used to protect media rights.
Spectators will be able to watch many events, including the cycle road race, triathlon and marathon, without a ticket.
But the ticket conditions as they currently stand prohibit ticket holders from posting photos and personal footage of the Olympics on sites such as Facebook, Twitter and YouTube.
Sir Keith said organisers wanted to make sure that media rights which have been paid for are protected.
He said: "Media rights are sold - can we police everything these days? Absolutely not, the internet has changed the world and we're not going to be silly.
"But the reality is that we live in an internet world where Facebook downloads and uploads are happening every day of the week and there's not much we can do about it."
He added: "People are much more accessible to a road race or a marathon or a triathlon because they're not contained within a tight venue.
"In a venue we can control it a lot more and we do."
The cycling road race route starts from The Mall, moves through west London and then out to Surrey and back, including several circuits around Box Hill.
Helyn Clack, cabinet member for the Olympics at Surrey County Council, said the authority was considering compiling spectator footage for its own purposes.
"We wouldn't want to stop people taking films of the race as it comes through Surrey," she said.
"In fact I hope that after the event when we look back and see what happened, who was there and how many people came, we'll be able to compile some of those videos... put them together and make some sort of massive statement about what we did in 2012."
The Locog ticket guidelines state: "Images, video and sound recordings of the Games taken by a Ticket Holder cannot be used for any purpose other than for private and domestic purposes and a Ticket Holder may not license, broadcast or publish video and/or sound recordings, including on social networking websites and the internet more generally."
A London 2012 spokesman said: "We understand that spectators will want to share their photographs of London 2012 events on social networking sites and we are not looking to stop them from doing this.
"However we are looking to stop people who seek to use them for commercial purposes. Clarification on this matter will be provided when the tickets are distributed."
Related Internet Links
The BBC is not responsible for the content of external sites.