Moving London homeless to East Midlands 'appalling idea'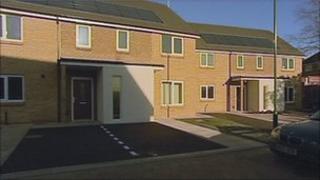 A homelessness charity says proposals to move up to 500 families from London to the East Midlands are "appalling".
Smart Housing Group, a private housing provider, has proposed to buy homes in Nottingham, Derby and nearby towns and use them to house the London families.
Kensington and Chelsea, Hammersmith and Fulham and Westminster councils are considering the proposals because of a shortage of housing in their areas.
Homelessness charity Framework said this could create more problems.
Chief executive of the Nottingham-based organisation, Andrew Redfern, said: "It's not as if there is any kind of surplus of affordable, social or private housing in Nottingham."
The relocations would be temporary until housing is found in London.
This means the London families would need extra support from public services, Mr Redfern said, as it would be difficult for them to find jobs while living somewhere temporarily.
"Nottingham has had its funding hugely cut by the government over the past year and is really not in a position to look after people who have been sent to it by, frankly, a very rich London borough," he added.
'Trying to discourage'
Derby City Council said it had not been made aware of the plans, while Nottingham City Council said it could not legally block them.
Councillor Dave Liversidge, portfolio holder for housing in Nottingham, said: "Legally we can't do anything about it but we will be trying to discourage them [the London councils] from doing it."
Jeff Collings, general manager of Smart Housing Group - which wrote to the three Conservative-led London authorities proposing the idea - said: "We are in negotiation with three London authorities at the moment but nothing has been agreed as yet.
"We have had tentative interest from a number of local authorities.
"They haven't progressed at all yet. The main discussions are with those three boroughs."
The proposal document from Smart Housing Group said Nottingham, Derby and the "surrounding towns" had been identified as the most "viable area" for the project.
This followed research across the UK which looked at variables including ethnic mix, accessibility from London, property availability and services such as schools and hospitals.
The proposal from Smart Housing Group said that "not less than 150" properties would need to be procured "within the next 12 months or so" because of initial set-up costs.
'Rising demand'
There would then "ideally" be an option for this to increase to 500.
The housing would be used for large families declared homeless and aimed at those who do not have strong connections to London.
Westminster council shares some services with the other two London authorities in a "tri-borough partnership".
Ben Denton, director of housing for Westminster, said: "To address this rising demand [for housing] we and many other London local authorities are looking at temporary housing alternatives outside of the city both in neighbouring boroughs and elsewhere, particularly for those applicants with minimal connections to Westminster."
Labour-controlled Newham Council, in east London, said it had been forced to look further afield for affordable properties and wrote to a housing association in Stoke-on-Trent asking it if it wanted to lease homes to the authority.