Atherstone-on-Stour trial: Sprinklers 'not connected'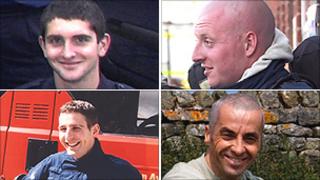 Water sprinklers had not been connected at a warehouse when a blaze killed four firefighters in 2007, a jury has heard.
Andrew Tenney, a manager at the Atherstone-on-Stour warehouse, told Stafford Crown Court he had raised concerns over fire safety measures.
Mr Tenney was under cross examination by barristers for the defence.
Warwickshire fire service managers Timothy Woodward, 51, Paul Simmons, 50, and Adrian Ashley, 45, deny manslaughter by gross negligence.
Ashley Stephens, 20, John Averis, 27, and Darren Yates-Badley, 24, died in the 2007 fire in Atherstone-on-Stour. Ian Reid, 44, died later in hospital.
The prosecution claims the three fire service managers failed to assess the risks properly, failed to review the way they tackled the fire and also failed to withdraw the breathing apparatus teams when it was obvious the situation was deteriorating.
'Building layout plans'
It was, the Crown alleged, a gross departure of standards expected from a reasonably competent commander.
Mr Tenney, an engineering manager who was also a fire warden at the warehouse, told the court he had raised concerns about fire safety with the site owners.
He told the jury the sprinkler system had not been connected and he had been concerned about a lack of fire escapes outside the building.
The fire started at a vegetable packing plant in Atherstone Industrial Estate, on the site of a disused airfield, in the early evening of 2 November.
The court heard Mr Teeney made a series of plans regarding the layout of the building to assist firefighters on the night.
Defence barrister Neil Fitzgibbon QC asked Mr Tenney if he accepted that because of all the activity on the night, he "may have genuinely and honestly just got some things wrong?"
Mr Teeney replied: "Yes".
Mr Woodward is a station manager from Leamington while Mr Simmons, from Hampton Magna, and Mr Ashley, from Nuneaton, are watch managers for Warwickshire Fire and Rescue Service.
The trial continues.