Southern Water: Drought measures remain after rain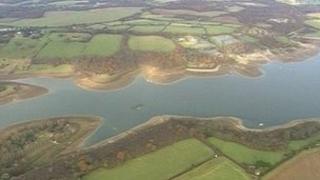 Reservoir and aquifer levels remain well below average even after spring showers, Southern Water has said.
The water company which supplies Sussex, Kent, Hampshire and the Isle of Wight, said recent April showers were "too little, too late".
Strategy manager Meyrick Gough said water restrictions imposed during the drought would continue.
Southern Water has said the region is experiencing the second driest period since records began.
Mr Gough said: "Although good for the garden, the spring showers will not replenish our water stocks to levels we would like."
He added: "Our resources remain well below average and we'd need a considerable amount of rain over a long period of time before they could return to normal levels."
Bewl Water reservoir in Lamberhurst is currently 50% full when it would normally be 90% full at this time of year.
The government's environment department Defra said much of southern and eastern England was officially in a state of drought in February, and hosepipe and sprinkler bans came into force on 5 April.