Mayoral vote a political football in game of two halves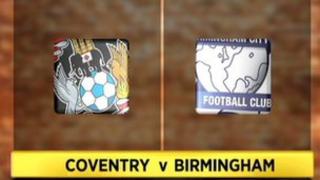 They are less than 20 miles apart. But the fortunes of Midlands rivals Birmingham and Coventry could hardly contrast more sharply.
One has had a distinguished history of consistency at the top level, but now its direction of travel seems to be unswervingly downhill.
The other, traditionally the most volatile and unpredictable in the land, is once again showing signs of upward mobility.
Until its relegation from the Premiership 11 years ago, Coventry City FC had belonged to the top tier of English football for 34 consecutive seasons. This was an achievement surpassed only by Liverpool, Everton and Arsenal.
Now the Sky Blues have been relegated again, to League One. The gleaming Ricoh Arena awaits the likes of Yeovil and Hartlepool.
Whereas Birmingham City FC has been promoted and relegated to and from the top level on no fewer than 12 occasions in each direction.
That's a record of consistent inconsistency unmatched anywhere else in the English game. With 2012 upon us, Birmingham would surely be gold medal contenders in any Olympic yo-yo competition.
On the very day Coventry's relegation from the Championship was confirmed, Birmingham secured its place in the Championship play-offs, where they will be vying for yet another return to the top flight.
Should I seize on the two cities' topsy-turvy footballing exploits as a parallel for their political fortunes? After all, these referendums could lead to the biggest shake-up in the way they are governed since Victorian times.
Sporting analogies can be fraught with danger of course. And yet supporters of directly-elected mayors seem to have no qualms about talking of 'Premier League cities' and 'competing in Europe'.
Without prejudging next week's referendums in either city, I wonder if League One Coventry would be even more in the shadow of a (potentially) promoted Birmingham if its voters were to stick with the existing council leader system, while Birmingham's were to choose an elected mayor?
That's the question I put to the Coventry-born Conservative MP for Stourbridge Margot James on last weekend's Sunday Politics. She acknowledged that was the way it had always been. And it was one of the reasons why she supported an elected mayor to stand up for her home town.
But most of the city's political leaders take the opposite view.
The Labour-controlled council voted overwhelmingly against it; with radical spending cuts to implement, it resolved the cost and disruption could not be justified. But the government is requiring it to hold the referendum just the same.
All but one of the city's MPs oppose the idea too, leaving only former defence secretary, Labour MP for Coventry North East Bob Ainsworth, as a high-profile advocate and potential candidate.
No wonder this week's mayoral referendum debate on BBC Coventry and Warwickshire was such a lively affair.
Most of Birmingham's councillors oppose it too. The "Say no to a power freak" campaign has backing amongst all three main parties.
It is led by the Liberal Democrat MP for Birmingham Yardley, John Hemming, the Labour MP for Birmingham Hall Green, Roger Godsiff, and Conservative councillor James Hutchins.
David Cameron admitted this week that what he called "the establishments" in the big cities were opposed to elected mayors. So, he said, it was necessary to hear direct from the people 'over the heads' of their leaders, in next week's referendums.
The prime minister named Birmingham and Bristol as the places where he was most hopeful of a positive outcome. He told voters in cities considering how their councils could attract cash into their areas that they should "join the race or fall behind".
When I chaired a debate among the city's business leaders last week, I found they overwhelmingly supported the proposition.
We've got into the habit of talking about saying 'yes' or 'no' to a mayor. But these referendums will offer not a 'yes/no' question, but a choice of two options: to retain the existing council leader-plus-cabinet system or to switch to a directly-elected mayor, again with a cabinet.
It's a tale of two cities complete with the ups and downs of two local rivals.
A referendum of two halves.