Postman completes trolley run from Hereford to London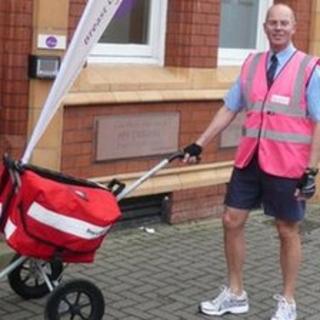 A Herefordshire postman has arrived in London after running 150 miles (241 km) over six days while pushing a post trolley for charity.
Mike Chandler, 55, will now take part in the London Marathon on Sunday as he aims to raise £20,000 for breast cancer charity The Haven.
His mother died aged 38 from cancer in 1973, when he was 16 years old.
Mr Chandler started the run in Hereford and went through Gloucestershire, Oxfordshire and Buckinghamshire.
The postman said he received an "absolutely brilliant" reception on arrival at The Haven's London base in a converted church.
Over the years, Mr Chandler has raised £75,000 through bike rides and 12 marathons.