The crew begin training on Jubilee trow barge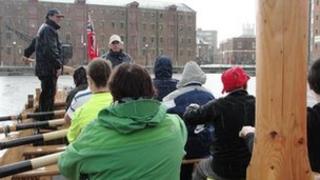 Selection and training has begun for a crew who will row a replica boat to represent Herefordshire in the Diamond Jubilee River Pageant.
The Wye trow has been built at Gloucester Docks and is based on designs of River Severn and River Wye cargo barges from about 200 years ago.
A crew of 10 will be chosen from 20 volunteers for the Rive Thames pageant.
Volunteer Dave Smith said: "Technique wise it's just brute force, there's not much finesse about it."
The 36ft long (10.9m) flat-bottomed vessel which weighs three tons has been made from timber sourced from estates in Herefordshire.
In the 18th and 19th centuries trows were used to carry cargo such as coal, cider and wool.
'Quite a challenge'
The boat will be skippered down the Thames in London on 3 June by Rear Admiral Phillip Wilcocks who said the boat was "a dream to handle".
"I'm used to driving 5,000 ton destroyers at 32 knots and this is three ton of wood with eight oarsmen," he said.
The crew are being coached by Jeremy Picton-Tabor, who also has to whittle the squad of 20 men and women, aged from 17 to 71, down to a final 10.
"We have to propel it up the Thames at four knots with eight oarsman, which is quite a challenge, he said.
The eight oarsmen and women in period costume will row the boat with two in reserve.
Trows were not designed to be rowed and would have been either sailed or hauled by men called bow hauliers.
Russ Price, who hopes to be part of the final crew, said: "Once you get it moving it's OK - as long as we don't get a headwind it will be all right on the day."
The replica, which was paid for by an anonymous donor, will be named The Hereford Bull at a ceremony on 12 May.