'Thinking like a maggot': How insect clues can crack murder probes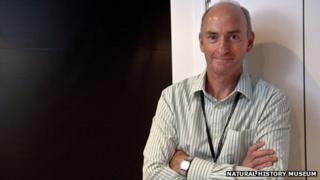 Dr Martin Hall has had to get used to dealing with horrific sights and smells as part of his job.
Yet the type of scene he regularly faces is something he had not considered in his "wildest dreams" when he became fascinated by insects as a child.
After collecting beetles and blowflies while growing up in Zanzibar, east Africa, he went on to study the subject and became a forensic entomologist at London's Natural History Museum in 1989.
His role involved researching animal diseases and their link to insects. Dead humans were something he had yet to encounter.
'Completely new world'
But that changed in March 1992 when the skeletal remains of a young woman were found in woodland in Dorset.
Police knew forensic entomology could provide answers more traditional inquiries could not and Dr Hall was called in.
"It opened up a completely new world which I had never experienced before," said Dr Hall, 57, who lives in Haywards Heath, West Sussex.
"I suddenly found myself in an environment I had not considered in my wildest dreams."
Through analysing the age and type of insects and larvae at the scene, Dr Hall was able to provide clues about how long the body had been there.
For police, it gave them a focus for the investigation and a time frame for when the body had been dumped.
Since then the number of inquiries Dr Hall has been involved in has spiralled. He is one of a select band of insect experts called on by detectives.
Police work now takes up nearly half of his week, either analysing samples or developing research.
On average, he deals with between 10 and 20 cases a year.
Some of the investigations Dr Hall has worked on include the deaths of five sex workers in Suffolk in 2006 and the murder of Chantel Taylor, 27, from Birkenhead, Merseyside, in 2004.
One of the most recent cases was the murder of 17-year-old Alisa Dmitrijeva who was found dead on the Queen's Sandringham Estate on 1 January.
"The first time you do see a dead body is a bit disquieting but I'm relatively comfortable in doing it now," Dr Hall said.
"Sometimes bodies in houses can be more difficult than dealing with a body in a field.
"When a body is in a field you can turn off your emotions to some extent and view the whole scenario in a perfectly detached way.
"In a house, there are more artefacts and signs of their life around - more clues that this person was a living being not so long ago."
The 57-year-old can spend anything from hours to a few days at a crime scene.
"You only get one chance to gather the evidence and it's vital nothing is missed," he said.
"You have to think like a maggot. Where would I go if I was a maggot? What would I do?"
Working within the legal system is a process far detached from science.
But Dr Hall, who is now head of research at the museum's department of entomology, said he had found it "extremely fulfilling".
"Many people may be beavering away all their lives with research and not see anything productive come from it," he said.
"For me, it's great to see an outcome every few months at the end of the criminal case."
Det Ch Insp Jes Fry, of Norfolk police, said the techniques had helped several inquiries in Norfolk, including the Sandringham murder probe.
"Forensic entomology can give a pretty good estimate of how long a body may have been in situ. Obviously that helps us focus inquiries around last sightings," he said.
"It can knit it all together. It's something that has become much more helpful in the past 10 years as it has advanced."