City mayors: Nottingham Labour urge a referendum 'no'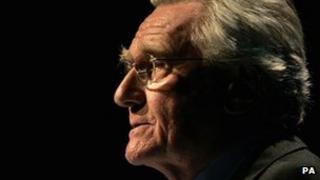 When it comes to a heavyweight political intervention, watch out for a big beast.
They don't come much bigger than Lord Heseltine.
The former deputy Prime Minister in John Major's cabinet is back roaming the cities that dare to challenge his belief in directly-elected mayors.
Labour-run Nottingham has been in his sights.
Poster sites in the city already give Nottingham Labour's view on having a directly-elected mayor.
It is against and wants a 'no' vote in May's referendum.
City leaders
Labour activists have been distributing their Proud of Nottingham newspaper warning of "fat cat pay", corruption and wasted spending on an unwanted Tory project.
It's robust political invective, but then that may be needed to encourage people to vote in this referendum.
Certainly Lord Heseltine didn't mince his words in chiding Nottingham Labour's stance on the city mayor issue.
"The problem with our cities today is that virtually no-one knows who the leaders are," he told BBC TV's East Midlands Today.
"And that's not the way you compete as a great city on the international stage, especially when you are looking for new investment and wanting to create an image for your city.
"Our cities need powerful, identifiable and accountable leaders," added Lord Heseltine.
"In Nottingham, the people would choose their leader, and it would make the decision of local people more important to the future of the city."
Marketing Nottingham
But the political war of words will be seen as a distraction to some of Nottingham's business community.
Chartered surveyor Tim Garratt has big ambitions for Nottingham.
He has been advising the city council on promoting Robin Hood as a global brand.
Attracting world investment into Nottingham is his business.
"We need Nottingham to generate a higher profile and we need to get more visible. That's why I want a city mayor," he told me.
Tim Garratt believes the current city council set-up isn't effective enough.
He wants a city mayor to make those big decisions in Nottingham.
"Inward investment is hugely important for this city. We have to get more jobs here and more opportunities for people to find work.
"A city mayor would do that," he added.
'Low priority'?
One of Nottingham's Labour MPs, Chris Leslie, warms to the idea of city mayors, but not necessarily for his own city.
"In Nottingham's case, we've already got pretty clear and stable leadership and - quite frankly - of all the things to have a referendum on in Nottingham, I just think this is a low priority," he said
"There's just no groundswell of support for the idea."
Nottingham Labour claims a city mayor would cost the council an additional £1 million, and that at a time when council finances are being squeezed .
Nottingham's one of 10 English cities to hold a referendum vote on 3 May on whether to have an all-powerful city mayor.
The debate is starting to heat up.