Sale of Newcastle's Vermont Hotel secures jobs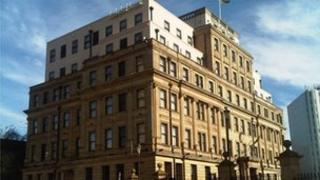 A landmark Newcastle hotel which went into administration earlier this year has been sold, safeguarding 60 jobs.
Lincoln Group Ltd put the 101-room Vermont Hotel up for sale in January, blaming increased local competition and the economic downturn.
It has been bought by Gainford Hotels for close to the £9m asking price.
The new owners have promised a £3m refit and pledged to retain 60 staff, with the prospect of recruiting up to 40 additional workers.
A Gainford Hotels spokesman said renovation work on the Vermont and accompanying Martha's Bar would begin "within weeks" and could be completed by August.
He said staffing levels could rise to as many as 100 as occupancy at the hotel increases.
The County Durham-based Gainford Group is better known for its residential care homes and currently operates 13 in the North East of England.
A buyer has yet to be found for The Baltimore Hotel in Middlesbrough, which was also put up for sale by Lincoln Group Ltd.