Shepton Mallet and Erlestoke prisons share costs to save money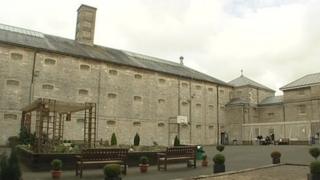 Security will remain a priority at two prisons despite government spending cuts, their governor has pledged.
Andy Rogers spoke out after Shepton Mallet prison had £700,000 slashed from its £6.5m annual budget.
In order to meet this shortfall, resources and senior staff have been shared with Erlestoke in Wiltshire.
Mr Rogers, who oversees both jails, said: "Efficiencies are everywhere in the public sector, but we will not compromise on security."
He has said the cuts mean he and other senior staff will regularly travel the 22 miles between the two prisons.
Public 'safe'
"We are making sure very much that the public are safe and we will reduce risk through rehabilitation," he said.
He has also said the prisons were looking towards links with outside industry and the voluntary sector.
"We need to reduce risk but we cannot do that in isolation," added Mr Rogers.
About 70% of the 189 inmates at Shepton Mallet are serving life for murder. The rest are seeing out long sentences for serious sex offences.
The prison has 141 cells, with 24 where offenders have to share.
There are six prisoners over 70 years of age, with the oldest being 76, and the average age is 47.
A report by Her Majesty's Inspectorate of Prisons last year praised the jail for its relationships between staff and inmates.
Drug offending is almost non-existent, the prison service inspection revealed, with a verdict that the Shepton Mallet jail was "safe".
Mr Rogers hopes that by sharing resources with Erlestoke the future of the prison has been secured, following a year of uncertainty.