Postman runs from Hereford to London for The Haven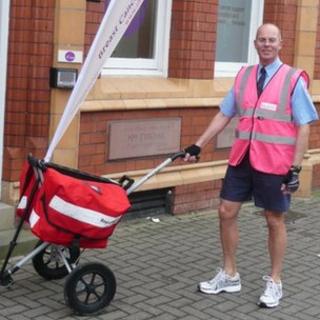 A Herefordshire postman is running 150 miles (241 km) pushing a post trolley to help raise money for breast cancer charity, The Haven.
Mike Chandler, 55, hopes to run through Ross-on-Wye, Gloucester, Oxford and Buckinghamshire in six days and will then complete the London marathon.
Mr Chandler is aiming to raise £20,000 for the charity after his mother died from cancer when he was 16-years-old.
Over the years he has raised £75,000 through bike rides and 12 marathons.
'Completely solo'
Mr Chandler said: "My mum died back in 1973 when she was just 38.
"The NHS were brilliant but The Haven steps in to provide that comforting arm and source of expert help and information.
"I've done a few marathons before so I'm trying to do something different and the idea is to do it completely solo - I don't want anyone with me."
He said he plans to stop overnight in Witney, Oxfordshire where he grew up and where his mother later died.
Mr Chandler said his trolley will be full of food and fresh clothes and he expects to reach The Haven's London base next week.