Dry weather means early Kent and Sussex bluebell bloom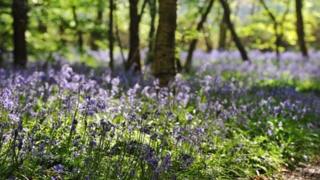 Drought conditions in the South East mean the region's bluebell season could start and finish earlier than usual, according to the National Trust.
It said the recent dry weather meant the best time to catch the flowers in woodland across Kent and Sussex would be between 13 and 15 April.
The bluebell season normally peaks at the end of April and in May.
The flowers usually start appearing in the South West of England and then spread to other parts of the UK.
'Less abundant'
Matthew Oates, a naturalist for the National Trust, said: "The warm and dry weather of the last few weeks has sped up the flowering process for bluebells, but the absence of rain means that visitors will need to be quick to see them - it could be a short but sweet season for bluebells, and other classic spring plants like the primrose.
"The bluebell starts growing in January with its sole purpose to flower before the other woodland plants, but in dry conditions the bluebell will flower less, will be less abundant and its growth will be stunted."
The trust is urging people toadd bluebell sightings to an interactive mapon its website.
Mr Oates added: "The Bluebell Watch map will help us build up a clearer picture in real time of how bluebells are spreading across the country and will be a useful tool for anyone wanting to see these majestic carpets of blue stretching off into the distance."
About half the world's population of bluebells can be found in the UK, but the native species is under threat from the Spanish bluebell which is often planted in domestic gardens.
Common bluebells are now a protected species in the UK.