Farmers try to cope with drought and prevent losses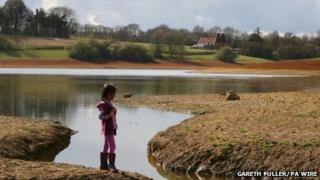 Farmers across the country are taking measures to reduce their water consumption and avoid compulsory bans on water use, following one of the driest two-year periods on record.
Matthew King is a farm manager from Bury St Edmunds in Suffolk. For the past two-and-a-half years, he has been managing 600 hectares of root crops, including sugar beet, potatoes, and onions.
Mr King is part of the Lark Valley Group, which has been implementing voluntary water-saving measures.
He says that the group has taken 20% voluntary cuts to their irrigation licences. In their case, this amounts to roughly the same volume of water needed to fill four Olympic-size swimming pools.
The group has also reduced their onion crop by about 40%, and have grown their parsnip crop in conjunction with another farmers' group.
Mr King says: "We've gone for an earlier parsnip crop which requires less water. They'll be harvested in July, rather than December".
Easy target
He describes the Lark Valley Group, which comprises of about 80 farmers, as a "pro-active" group.
In January, they started more intensive discussion with the Environment Agency (EA) in order to prevent losses.
In cases of severe drought, the EA can place restrictions on farmers and other businesses who extract water from springs and rivers.
Mr King says: "The disaster would be if we planted all our crops as usual and if, in July, we were told to stop watering. We would have faced financial ruin."
For him, farmers are an "easy target", as it is easy to regulate their water use, although farmers use only 1% of abstracted water in the UK.
Ian Johnson, spokesman for the Environment Agency, said: "The Environment Agency must balance the water needs of people, businesses and the environment.
"Limits apply to many abstraction licences - whether it belongs to a farmer, a water company or industry - and are designed to protect the rights of other licence holders and the environment.
"We are working with farmers to make the best possible use of reducing water resources and will continue to be as flexible as possible around the regulation while still protecting the environment."
Ongoing problem
This problem isn't new. According to the National Farmers Union (NFU), last year was a very bad year for farmers because of the continuing dry weather.
A spokesperson said: "It has been an ongoing problem over the past two years".
Last autumn, some sugar beet and potato farmers in Cambridgeshire struggled to harvest their crops because it was difficult for harvesters to work in such dry conditions.
While it is too early to tell what effect this will have on spring crops, the NFU stress that many farmers across the country are adapting different irrigation methods such as rainwater harvesting to avoid further losses in income.
The Met Office has said that last month was the fifth driest March on record.
In addition, England has seen the driest February since 1998, with East Anglia and Lincolnshire being particularly badly affected.
For some areas, such as the Midlands, the year up to October 2011 was the driest 12 months since records began in 1910.
However, the Met Office predicted that it expects average rainfall in April to return to normal levels.
Adapting to changes
Dr Diane Mitchell, Chief Environment Adviser to the NFU has pointed out that: "Farming is a resilient sector and is used to adapting to changes in weather patterns. Many farmers are already changing their practices".
It is quite difficult to tell that the overall impact might be on some crops in various parts of the country, but Dr Mitchell notes that last year dry weather conditions experienced in early spring did not affect overall grain production.
She said that in the future the NFU will be "concentrating our efforts on identifying the barriers to investment in longer-term water saving measures".
She said that "a tax relief on farm reservoirs may help farmers to overcome those barriers in the future".