Shire counties press for new funding deal for schools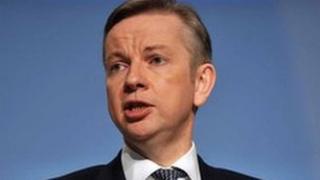 The Education Secretary Michael Gove may need to brush up on his maths.
He set some homework for Ivan Ould, the Leicestershire politician who represents the f40 group of local education authorities.
He lobbies for those English counties that claim unfairness in the current complex system of allocating education funding.
His own authority, Conservative-run Leicestershire County Council, has found itself at the bottom of the education funding league table for a number of years.
Funding challenge
Councillor Ould held talks last week with Michael Gove at the Department for Education.
It was out of their head-to-head that the Education Secretary issued his funding challenge.
So at Leicestershire's County Hall, Ivan Ould - with calculator in hand - has been working out an alternative system of school funding.
His own proposals are now on their way to the Education Secretary to plug an increasingly controversial funding gap between our city and county schools.
It matters: funding is allocated to each pupil based on a series of social, education and deprivation factors.
So in Leicestershire, each pupil is allocated £4,428. But that's £862 lower than for each city pupil in Leicester's schools.
In neighbouring Nottinghamshire, the funding gap is even greater. County pupils are allocated £4,746.
That's almost £1,000 less than pupils in Nottingham City.
"I'm not asking for any education authority to lose out," Councillor Ould told me.
"We've simply asked the government to narrow the range between the lowest funded and the average.
"Somebody has to be at the bottom of the funding table and I'm quite comfortable if that's Leicestershire, providing the current range between the best funded and the lowest is narrowed."
He's suggesting an increase of between 0.25% or 0.50% for each year of this parliament.
That could cost the Department for Education up to £100 million.
Finding the formula
For a county like Leicestershire, that's worth an extra £1 million. The higher increase would net £4 million.
"The money's there," said Councillor Ould.
"If the Department for Education can find the cash for its pupil premium scheme and other projects, it can certainly afford this."
He's argues the current funding formula puts county schools at a financial disadvantage. And he's getting influential parliamentary backing.
"We have deprived areas in Leicestershire," said Nicky Morgan, the Conservative MP for Loughborough.
"Teachers' salaries and book costs are the same for our schools as they would be in any city. Our schools in Loughborough have needs too and it's time that was recognised," she added.
Tussle ahead?
But there's this warning about tampering with the current formula.
"There is a clear, clear need for extra money for cities like Leicester," said Labour's Councillor Vi Dempster, who runs schools and children's services for the city.
She told Eleanor Garnier, BBC Radio Leicester's political reporter:
"If there's any more money to be handed out, it should go to those authorities that have the most need. And that means Leicester City and not Leicestershire County."
This hints at a new tussle between city and county for more government cash support for schools.
The county lobby feels it's winning its case.
Michael Gove is said to be supportive and agrees the current funding system needs an overhaul. But the issue now is timing.
The Education Secretary told Ivan Ould a long term solution would have to wait until after the next general election... unless Ivan had a cunning plan that adds up.
That Ould alternative is now on its way to the Department for Education.