OzBus coach holiday firm closes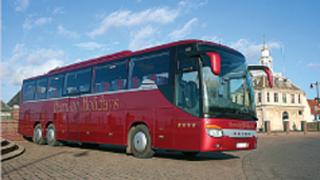 An East Anglian holiday firm specialising in coach holidays to Australia has ceased trading.
OzBus, based in Diddington in Cambridgeshire, began running trips from London to Sydney in 2007.
In a letter on the company's website, firm director Daryl Jones said Ozbus, which also owns Harrison Holidays, was unable to pay its debts.
All future tours that people have booked with the two companies have now been cancelled.
In January OzBus bought Norfolk holiday firm Harrison Holidays after that company went into administration in November.
Mr Jones said the lengthy process of buying Harrison from the administrators was a "significant" factor in OzBus's collapse.
The two workers at Harrison's King's Lynn office have been made redundant. Mr Jones said the two workers at OzBus had left of their own accord.
Mr Jones said Harrison Holidays might be started up again in future as an online firm.
OzBus has had three different owners since it began trading in 2007. It was last bought by Australian firm Busdeluxe in September.