Airports dismiss Easter 'gridlock' fears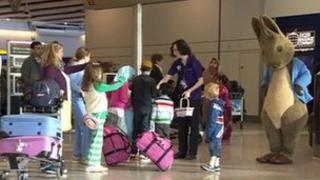 Airports across England have denied there is a risk of gridlock over the Easter break.
On Wednesday it was reported the British Air Transport Association had written to the home secretary with 11 airlines' concerns over possible delays at peak travel times such as Easter.
They say there are too few border staff for full security checks.
But many airports say they do not anticipate problems for the Bank Holiday weekend.
The Border Force said it would aim to keep disruption to a minimum by using staff flexibly to meet demand and recruiting extra staff to help with the holiday demand.
'Fully prepared'
British Airways and Virgin Airlines were among those expressing their concerns over potential delays to hundreds of thousands of passengers.
A spokesman for Heathrow owner BAAtold the Daily Telegraphimmigration waiting times during peak periods at Heathrow were currently "unacceptable".
But a spokesman for Heathrow Airport said severe disruption was not being predicted.
Gatwick Airport said it was expecting 400,000 passengers to travel through the airport over the Bank Holiday weekend but it refused to comment on the gridlock concerns.
Stansted Airport also dismissed the issue, with a spokesman saying: "We are fully prepared for 200,000 passengers travelling through the airport over the weekend."
Increased capacity
But Luton Airport said it was putting extra measures in place to cope with the predicted 122,000 passengers set to pass through the airport over the Easter period.
A spokeswoman said: "To ensure that London Luton Airport is prepared for the Easter getaway additional passenger security lanes have been introduced to increase the capacity and efficiency of security at peak times, as well as additional staff on hand to ensure that all passengers have a smooth journey through the airport.
"During any peak travel period we would request that passengers leave plenty of time for their journey to and through the airport and ensure they are aware of current security restrictions which can be found on our website."
Manchester Airport said the Border Force had drafted in extra staff to cope with high demands there during the Easter period.
A spokesman said they were not expecting any delays for the 810,000 passengers predicted to use the airport from 1 to 16 April.
He added industrial action in France had been affecting flights earlier this week leading to some cancellations but it was believed that had now been resolved.
John Lennon Airport, in Liverpool, also said it was prepared for the Easter break.
A spokesman said: "We are expecting a 20% increase on normal passenger numbers - we've got additional staff so we are prepped and ready.
"We are not expecting to be gridlocked although we always advise passengers to arrive in plenty of time, especially at Easter."
He added they were expecting around 200,000 passengers during the Easter period.
Warnings 'well founded'
Officials at Leeds Bradford Airport said they did not think there would be any problems at the airport over the weekend.
While in Birmingham it is expected 95,000 passengers will pass through from Thursday to 8 April - representing a 5.8% increase over the same period last year or a 8.7% increase compared to a normal weekend.
A spokesman said 864 flights were scheduled with 628 of those to and from EU destinations.
He added no extra airport staff had been taken on and there was no expectation of any delays or travel issues.
But a Birmingham Airport Border Force spokesman said they would have extra staff on over the holiday weekend.
He added the airport had not had any delays over the past few days and everything was "running smoothly".
East Midlands Airport is also not anticipating extra delays. A spokeswoman said they were expecting 71,400 passengers to travel through the airport from Thursday to next Tuesday.
But passengers have contacted the BBC to say they have faced lengthy queues through security.
Donna Perdue, from Horsell, in Surrey, said: "The warnings of gridlock are well founded - good for the airlines for speaking up.
"Lengthy delays when coming into the country are not restricted to critical holiday periods - they are the norm.
"On Tuesday afternoon, for example, I spent 45 minutes in the 'All Other Passports' queue at Heathrow's T3. The officials were allowing people with babies and young children to use the fast track lane but, for the rest of us, it was just a seemingly endless shuffle forward."
Geoffrey Ditz, from London, said he arrived on a plane at Heathrow's terminal five on Wednesday.
"It took nearly 40 minutes to get through security. Four out of eight windows were manned," he said.