Roads across Yorkshire disrupted by snowfall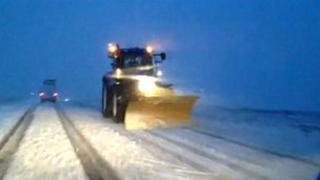 The heaviest April snowfall in Yorkshire for 30 years caused disruption across the region with poor driving conditions and road closures.
The M62 eastbound, which was closed for several hours between junctions 21 and 22, has now reopened with slow-moving traffic causing delays.
Homes in the Whitby area suffered power cuts due to the adverse weather and Leeds Bradford airport had delays.
The A57 Snake Pass was confirmed as closed on Wednesday evening.
Lisa Gallagher, BBC Yorkshire weather presenter, said that over the last 24 hours Yorkshire had experienced its heaviest April snowfall in more than 30 years.
She said there was snow in April 2008, though not as heavy as this year. On 24 April 1981, 29cm of snow was recorded in Sheffield.
North Yorkshire Police said snow drifts had caused problems for motorists in the Ryedale area and they had been asking people to drive with care.
The police were called out to assist a number of drivers who had been left stranded in their cars after snow hit the Hole of Horcum area on the North Yorkshire Moors between Egton Bridge and Tan Hill.
About 10 lorries had been stranded on the hard shoulder on the eastbound carriageway of the M62 at Huddersfield as they were unable to climb the hill.
In South Yorkshire the A628 that had been closed to heavy goods vehicles was reopened.
The A57 Snake pass, which links Sheffield and Manchester, faced a closure between Glossop and Sheffield.
The A635 Holmfirth to Greenfield Road was also closed between the A6024 Woodhead Road junction in Holmfirth and the A669 Chew Valley Road junction in Greenfield, because of snow.
The A169 between the A170 Hungate junction in Pickering and the A171 Guisborough Road junction in Whitby, had earlier been closed, but also reopened by Wednesday evening.
In East Yorkshire, some vehicles had to be pulled out of the snow at Garrowby Hill near Wetwang.