March temperatures in south-west England second highest on record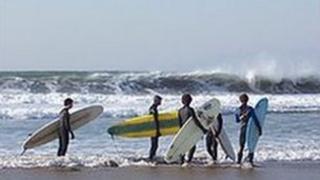 March temperatures in south-west England were some of the hottest on record, the Met Office has said.
Statistics showed Devon experienced its second warmest March since 1910, when the first recording was made. Cornwall had its third hottest.
The region as a whole had its warmest March since 1957, the figures reveal.
The Met Office added there had been little rain, with only 38% of the UK's average monthly amount, making it the fifth driest March since 1910.
A spokesman said the hottest day of the month in the region had been recorded on 28 March, at 20.3C (68.5F) at Chivenor.