Drought-damaged road cash requested by East Anglian councils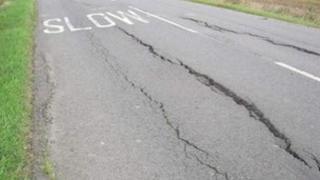 Bids for government funding to help repair roads damaged by dry weather have been submitted by a group of councils in the East of England.
Peterborough City Council and Cambridgeshire, Norfolk and Lincolnshire county councils have asked the Department for Transport for £26m.
Suffolk County Council has yet to submit its request.
The councils have told the government the high cost of repairing cracks and subsidence cannot be funded locally.
A spokesman for the consortium said the authorities had joined forces to lobby for funding in order to take "a common approach to an exceptional problem".
"We are all in a similar position and feel... this puts us in a stronger position to bid for additional money," he said.
'Drought impact'
Cambridgeshire County Council has requested almost £10m for the county from the DfT.
It said nearly 10% of its road network had suffered extensive damage caused by soil shrinkage.
Peterborough City Council has submitted a bid for £6.1m to repair damage to 57 sites, most of which it said were to the east of the city.
Lincolnshire council said it would need £6.5m to repair 154 "priority sites", mainly in the south of the county.
In Norfolk, damage at 45 sites would require government funding of £3.8m, the council claimed.
Steve Criswell, cabinet member on Cambridgeshire County Council, said: "The scale of the damage is beyond anything which can be funded locally, if we are to continue to meet all the other demands on our highway maintenance and improvement budget.
"I am hopeful the government will recognise the scale of the drought which has had such an impact on the highway network, not just in Cambridgeshire, but across the whole of the region."
Transport Minister Norman Baker said in a statement that £3bn would be provided to councils for road maintenance between 2011 and 2015 and an additional £200m was provided last year to repair damage caused by severe weather.
He added: "Over £320m of this has been allocated to councils in Norfolk, Lincolnshire, Suffolk, Cambridgeshire and Peterborough. It is for them to decide how to allocate these funds, including ensuring they have a contingency to deal with any emerging maintenance issues that may arise - this is the case for all councils.
"Whilst I recognise that fenland roads can be particularly susceptible to problems caused by drought I would encourage authorities to deal with problems as part of any scheduled maintenance programme."