Plymouth University and ShelterBox plan disaster relief course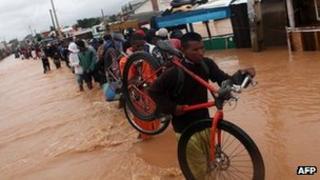 A course in disaster relief management is being developed by a Cornish charity and Plymouth University.
The postgraduate course is being designed to prepare students for a job in the humanitarian sector, a university spokesman said.
It is thought to be the first disaster relief course run by a charity and university in the UK, he added.
The course will be accredited by the university and is expected to launch in September 2013.
The spokesman said: "The course will probably include theoretical elements, such as the causes of humanitarian crises, including physical and political."
Students will also be taught how to react to a disaster and there will be a practical element to the course, he added.
Organisers also hope it will appeal to existing employees and volunteers in the sector.
The spokesman said: "It would be expected to attract students from across the world... becoming an internationally recognised centre of excellence for disaster relief management."
Since ShelterBox was founded in 2000, the charity has responded to just under 200 natural or man-made disasters in 75 different countries.