Call for action over 'intra-familial' child sex abuse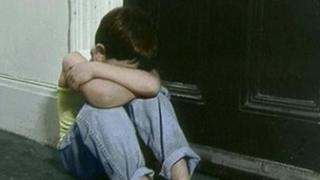 A number of children's charities have written to the government calling for an action plan to tackle the problem of sexual abuse within the family.
Charity ChildLine said its figures, based on calls about sexual abuse, showed that 59% of perpetrators were family members.
Children's Minister Tim Loughton MP said work was being done "to improve responses to all forms of child abuse".
The charities have requested a meeting with Mr Loughton to discuss the issue.
NAPAC, NSPCC, Action for Children and the Lucy Faithfull Foundation have written jointly to Mr Loughton saying they specifically want the issue of intra-familial child sexual abuse properly addressed.
They wrote: "All types of sexual abuse and exploitation are difficult for those who experience it to talk about, and preventative work is hampered because people do not want to think about it.
'Unhelpful distraction'
"Our experience of raising awareness and engaging people in talking about this subject is especially difficult if there is a risk that the perpetrator may be a close and trusted relative.
"Our charities welcome the government's much needed action plan, however we believe that in raising the profile of the types of abuse defined in the action plan there should be more specific reference to abuse which occurs within families.
"Everyone wants their home and family to a be a safe place, but tragically this is not always the case."
According to the NSPCC, between 1 April 2010 and 31 March 2011, there were 16,222 counselling interactions where sexual abuse was the primary concern.
Where the perpetrator was disclosed, about a third said the person responsible was their father, while 4% said that the person responsible was a stranger.
Peter Saunders, chief executive of the National Association for People Abused in Childhood (NAPAC), said: "In the 10 years that NAPAC has been running a national support line for people abused in childhood we have spoken to many thousands of survivors and the overwhelming majority (close to 100%) suffered abuse at the hands of a family member or someone trusted and known by the victim.
"Whilst the abuse of children and young people by gangs and traffickers is a serious problem that needs tackling, it is a very unhelpful distraction from the far greater problem of child abuse that occurs within families."
Mr Loughton added: "When abuse occurs within the family it is even more important that children have somewhere to turn.
"That is why the government has invested in the NSPCC helplines, so that even when children are betrayed by those closest to them there is always someone to listen and help."