The Galloway factor hits Bradford as Labour swept aside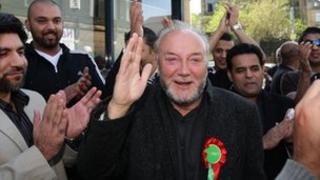 As the first ballot boxes were brought into the count, Labour managers in Yorkshire were telling me the arrangements for a victory visit by Ed Miliband to Bradford which was being planned for the following morning.
Even as late as this they were confident their man would be the next MP for Bradford West but expected "some slippage" in the 6,000 majority he had inherited from outgoing Labour MP Marsha Singh.
Just half an hour later the colour was beginning to drain from the men in red.
The postal ballots had been counted and the result appeared to be an even split with George Galloway.
Then the tellers started counting the ballot papers from a constituency which has been held by Labour for 38 years.
It was expected that the anti-war Respect Party would be ahead in the inner city council ward of Manningham.
The area had been cocooned in Respect banners, criss-crossed by mobile advertising lorries and, in the last 48 hours of campaigning, George Galloway himself perched on the top deck of an open-topped bus, microphone in hand.
His "troops out" rhetoric delivered at full volume day-after-day clearly struck a chord in a Manningham population which is overwhelmingly made up of British Asian Muslims.
Labour's white flag
The Labour camp reasoned that it would more than make up for the Respect lead in other wards.
By midnight Labour had been forced to wave the white flag.
The party's expected rush of votes never materialised. George Galloway had won a stupendous election victory.
For a man who has a habit of over-using superlatives the city's new MP was justified in calling his win "the most historic by-election victory in British political history".
He had an unheard of 38% swing from Labour.
Unpopular governments facing a by-election have occasionally seen that sort of massive protest vote.
This is the first time anyone could remember a party in opposition losing so much ground.
What is more it was not expected by anyone other than Respect candidates.
That was true despite the bookies slashing the odds on George Galloway in the last couple of days of the campaign. One company even suspended taking bets.
Yet, even then, the best odds were still being quoted for Imran Hussein, the local man standing for Labour.
Such a big swing cannot entirely be explained away by George Galloway wooing and winning the Asian vote.
Flood of candidates
Respect was 16,000 votes behind Labour at the general election of 2010. It finished up 10,000 ahead.
It also had little to do with a low turnout.
At the general election 65% of Bradford West's voters went to the polls. This week that figure did fall but only down to 50%.
As George Galloway himself points out that does not account for all of Labour's missing voters or his own total of well over 18,000.
There had to be a substantial number switching their votes from all the mainstream parties to him.
That is supported by the disastrous results for the Conservatives, shedding 10,000 votes, and the Liberal Democrats who had so little support the party lost its deposit.
Labour is now claiming that the by-election is a one-off.
George Galloway describes it as the "Bradford Spring" and the start of things to come. He now has his sights on the City Council.
Stand by for a flood of candidates at May's local government elections.
The amazing thing is that just 12 months ago Respect was not in a position to field a single candidate in Bradford.
The Galloway effect has just changed all that.