Ding murders: Police to meet suspect's China associates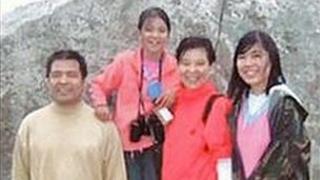 The hunt for a Coventry businessman suspected of murdering a Chinese family in Northampton has moved to China.
Three police officers from East Midlands Special Operations are there conducting inquiries.
They are talking to associates of Anxiang Du who is wanted in connection with the murder of the Ding family in April 2011 at their home in Wootton.
Officers are expected to meet members of the Ding family living in China to update them on the investigation.
Det Ch Insp Tom Davies said: "From the beginning of this investigation we have remained in close contact with the Chinese authorities.
"This visit will assist us in a number of aims, including raising the awareness of the investigation in China and our hunt for Mr Du.
"The family of the victims - Jifeng Ding, Helen Chui, Xing (18) and Alice (12) Ding - have received ongoing contact by family liaison officers.
"Meeting them in person will allow us to provide them with a thorough update on the investigation so far.
"We are open-minded as to where Mr Du may be.
"We know that Mr Du has contacts in China and we are following these leads to establish what information individuals may have and any support he may be receiving."