A453 road widening scheme to start in 2013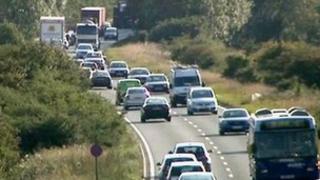 Construction work to widen one of the East Midlands' busiest roads is to begin early next year.
The transport secretary has approved the scheme to turn the A453, which runs from the M1 in Leicestershire to Nottingham, into a dual carriageway.
Highways Agency officials said they expected to start building between January and March 2013.
Businesses and Nottinghamshire County Council said the scheme would be a major boost to the area's economy.
The road, which runs from Junction 24 of the M1 to the Clifton area of Nottingham, is regarded as a congestion and accident blackspot.
Improvements to the route, which carries about 32,000 vehicles a day, have been discussed since the 1970s.
'Reduced congestion'
As late as December last year, the Highways Agency had been estimating a start date of 2015.
But in the Budget, George Osborne said the £160m of funding would be available sooner.
This has now been formally agreed after an independent inspector's backing for the project - which followed a public inquiry - was accepted by the government.
Roads Minister Mike Penning said: "Road users will benefit from reduced congestion, faster, more reliable journeys and improved safety on the route - a major link serving Nottingham, the M1 and East Midlands Airport."
The county council said making the A453 a dual carriageway would give a £540m boost to the local economy.
The Highways Agency has budgeted the cost of the project at between £141m and £194m.
Environmental groups have claimed it will damage green-belt land and simply move congestion to the outskirts of Nottingham.