Kent, Surrey and Sussex air ambulance on Microsoft's Bing homepage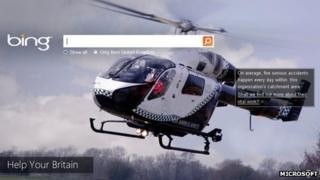 Microsoft has handed over its search engine's homepage in support of the Kent, Surrey and Sussex Air Ambulance Trust.
The charity said the 11 million UK users of theBing.comwebsite will see the image as part of the site's Help Your Britain campaign.
Visitors to the website will get information on the charity by hovering their mouse over parts of the image.
The air ambulance charity is mainly funded by charitable donations.
The specially equipped helicopter can reach any part of Kent, Surrey and Sussex within 20 minutes and deals with between four and six medical emergencies every day, the charity said.