PM tempts big city voters with Cabinet of Mayors offer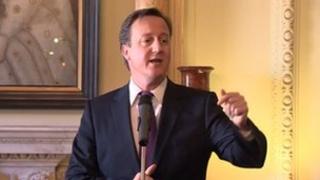 In between fuel frenzies and pasty panics, the Prime Minister has had time to push one of his pet projects this week.
I was at 10 Downing Street to see David Cameron tell an invited audience why he is offering voters in our biggest cities a chance to have elected mayors.
And he had a carrot to offer the cities that do vote for the idea in next month's referendums on the issue.
Their new leading citizens will get to sit in a Cabinet of Mayors which will meet at least twice a year under the PM's chairmanship.
David Cameron believes the cabinet will allow mayors to share ideas, lobby for their cities and give them access to the very top of government.
Cities Minister Greg Clark said: "Mayors are a very good way of providing the strong, visible leadership that helps attract investment, and have enormous potential to drive a city's future prosperity.
"By coming together, sharing innovations and building relationships, city mayors will play an important role in ensuring their city lives up to its full potential."
Strong leadership
Now it's up to the voters in Birmingham, Bradford, Bristol, Coventry, Leeds, Manchester, Newcastle, Nottingham, Sheffield and Wakefield to decide if they do want to replace their council leaders with mayors.
The Downing Street reception included a smattering of enthusiasts from those cities, but in some places the debate amongst the public is embryonic at best.
Take Newcastle. Campaigning is beginning to gradually get going, but I doubt whether there's much public awareness at the moment.
Labour and the Liberal Democrats - the two main political parties in the city - are largely opposed to the idea.
And Labour has decided not to actively campaign on the issue, preferring to concentrate on the local elections.
The Lib Dems are also more likely to be focused on holding on to their council seats than the mayoral referendum.
That leaves the Conservatives as the only one of the larger parties firmly backing the idea. That's a party which has had no political representation in the city for more than 15 years.
In addition, without the party machines behind them, both the yes and no campaigners will have very little money to spend on posters and publicity.
Case for change
It's easy to imagine then that significant numbers of voters will only end up only finding out about the referendum when they get their ballot paper through the post or at the polling station.
It's harder to imagine though what that might mean for the result.
Voters could decide that nobody has made the case for change, but equally they might think they have little to lose by voting yes, and want their own version of Boris Johnson (albeit without large chunks of his powers).
That would dismay the no campaigners, who argue the mayoral system concentrates too much power in the hands of one person.
They say it will be a waste of money to pay for a mayor when there is no evidence they deliver better results than council leaders elected by their political group.
The government though does now seem to be hinting that once a city decides to go down the mayoral route, it is more likely to find extra powers and resources heading its way.
That may or may not prove to be true, but the government does have something at stake.
It sees mayors in our biggest cities playing a big part in kick starting economic recovery.
Equal mayors?
Mind you, it may be that not all mayors are equal.
There are already an existing cadre of elected mayors across the country including:
Ray Mallon in Middlesbrough
Stuart Drummond in Hartlepool
Linda Arkley in North Tyneside
They, it seems, won't be getting an invite to the Cabinet of Mayors.
But of course, it won't be much of a cabinet unless voters in those 10 cities decide they like the idea on 3 May.
There might be a dozen at the table, or if voters don't like the idea they might be able to meet in a phone box.