iTunes scam gang netted 'Madonna-level' royalties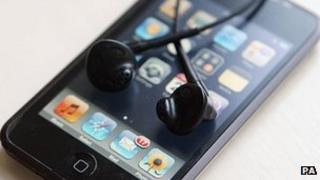 The leaders of an 11-strong gang which scammed iTunes and Amazon out of royalties to a level associated with acts like Madonna have been jailed.
The gang members from Kent, Derby, Birmingham and Wolverhampton used stolen credit cards to buy their own music, pocketing £500,000 in royalties.
Five members were jailed, one sent to a young offenders institution and the rest given non-custodial sentences.
Two other people were cleared of any crime at Southwark Crown Court.
The court heard the scam worked by exploiting the system which allowed musicians to receive royalties direct by paying a flat fee to a music distributor, then uploading their own music to the sites.
'Utterly unknown artists'
Ringleader Craig Anderson, 24, of Edwin Road, Dartford, Kent, bought 24 identical laptops, obtained thousands of stolen or compromised credit card details and then recruited helpers to log in and buy songs to generate royalties.
The group attempted to avoid detection by limiting each purchase to less than £10.
The court heard the scam, which ran between January 2008 and June 2009, generated £500,000 but caused losses to iTunes and Amazon of between £750,000 and £1m.
The prosecution said iTunes investigated after realising "they were paying royalties to what appeared to be utterly unknown artists in the Wolverhampton area at a rate they expect to pay to someone like Madonna".
Former IT teacher James Batchelor, 29, of Stonehill Road, Derby, had provided music for Anderson but was not involved in the downloading.
He pleaded guilty to conspiracy to defraud the online music giants and was jailed for two years.
'Flattered and used'
His defence told the court he was a teacher who performed to an "exceptional standard" but had been "preyed upon".
The judge said: "You were certainly not the architect of any fraud but a musician whom Anderson took advantage of.
"I suspect he flattered you and then used you.
"But within a matter of days you realised you were being used as an essential part of the fraud."
Anderson received a four-year and eight months jail sentence last April for organising the scheme but a court order has prevented this being reported until now.
Two-year sentences were also given to brothers Rajan and Sandeep Aheer, 22 and 24, both of Wellington Road, Wolverhampton, and musician, Matthew Clarke, 32, from Cross Farm Road, Birmingham.
Siobhan Clarke, 24, formerly of Edwin Road, Dartford, Kent, Arron Jassi, 22, of Denmore Gardens, Wolverhampton, Leon Miles, 21, of Brooklands Parade, Wolverhampton and Sheahan Steele, 43, of Hartington Road, Birmingham, were given suspended sentences and ordered to do community service for their part in the scam.
Lamar Johnson, 20, of Stowheath Lane, Wolverhampton, was sentenced to 32 weeks in a young offenders institution and Colton Johnson, 21, of Deansfield Road, Wolverhampton, was given 80 hours community service.