Forestry Commission fears loss of traditional skills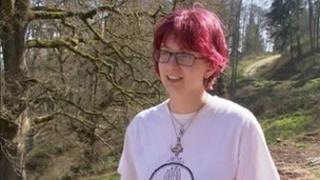 "I didn't know anything about it, I'd never really done anything very practical before but I'd been unemployed for a year."
Lu Mason, 22, from north Herefordshire, is one of 13 people to have completed a three-week course in forestry skills such as coppicing and logging on the Duchy of Cornwall's Herefordshire estate in Madley.
"I heard about it after being handed a leaflet from the job centre, I hadn't done anything like it before and thought I'd give it a go.
"I've loved it and want to carry on doing - I'm hoping to get an apprenticeship now."
'Ageing workforce'
It is the first time the Get Into Forestry course has been run by the Prince's Trust, a programme that the Forestry Commission England said would be vital to the future of the industry.
Steve Fowkes, from the commission, said: "The forestry workforce is an ageing workforce and there's a potential danger of experienced skilled members retiring without the same level of new entrants taking it over.
"It takes time to train them up and there's an increasing skills gap, there's been a steady decline and we're really trying to raise awareness at the moment."
He said the problem kicks in when most young people in training opt to do tree surgery rather than mainstream timber skills or small scale trades like coppicing.
A 2011 report by the skills sector council, Lantra,found there were nearly 12,000 people employed in forestry businesses in England.
The report said: "The real skills deficit was said to be in terms of highly qualified individuals lacking the practical skills to do the job."
Cost barriers
The Forestry Commission ran a pilot apprenticeship scheme for nine young people ran from April 2009 to September 2011 as a first step to improving this.
But Mr Fowkes said the cost to businesses of apprentices, once trained or in training, was still an obstacle.
He said: "The majority of timber firms are small and apprentices are expensive.
"Harvesting equipment and machinery is expensive and needs to be operating at full output so training to use it has cost implications.
"Also, traditional barriers to new entrants are as strong as they ever were in terms of affordable housing in rural areas - it's not going to be easy as an apprentice on an apprentice rate salary."
The commission has been given funds by the government to supplement these costs and ease the burden for 45 apprentices over three years.
John Wilding, forestry manager of the Clinton Devon Estate, said: "With the financial reality of the industry there is no money to carry anybody, it's a catch-22 situation.
"Because of the nature of the work, until they've got experience and training they aren't productive."
The growth in wood fuel also poses a problem, according to the commission.
Mr Fowkes said: "Wood fuel is a high volume, low profit industry and we're quite keen that that potential is maximised - to do that we need new skilled workers."
Devon's Ward Forester projecthas been set up to "increase supply for the growing local wood fuel market" and generally help 153 landowners in the area across 3000 hectares of woodland.
Project manager Melanie Sealey said: "There's definitely a need for more training in the sector and, along with a scheme in South Yorkshire, we're hoping for some funding from Europe to train foresters and landowners"
The Prince's Trust said it has no immediate plans to run more Get Into Forestry courses, but it would consider doing so in the future.
The Forestry Commission said basic training courses like it were vital for building up a healthy workforce for the future because a lack of interest can also be a problem.
Mr Fowkes said: "Unless you live in an area where that skill or industry is used, or have some knowledge of it, then you won't be interested.
"There's definitely room for more courses.
"They're crucial and unless you're somehow connected to the industry you may not realise it's a viable career."