Servicemen shot by Afghan soldier repatriated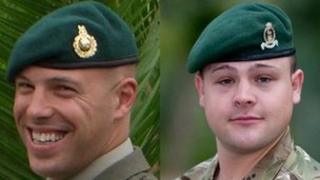 The families of three British servicemen killed in Afghanistan were joined by hundreds of people as their bodies were repatriated to the UK.
Sgt Luke Taylor, 33, and L/Cpl Michael Foley, 25, were shot dead on Monday by a rogue member of the Afghan army.
Their bodies were flown into RAF Brize Norton in Oxfordshire along with Capt Rupert Bowers of 2nd Battalion The Mercian Regiment.
The 24-year-old was killed on 21 March by a roadside bomb blast.
Their Union flag-draped coffins were carried one by one from the aircraft.
The servicemen have been described as "devoted" to their families, with Capt Bowers, from Wolverhampton, becoming a father just last month.
'Courageous soldier'
He leaves behind his wife Victoria and newborn son Hugo.
His family said in a statement: "Rupert was a kind, caring and thoughtful man who was selfless in his actions as a brave courageous soldier."
Private services for the men's relatives were held to honour the men before the cortege left the base on its way to the John Radcliffe Hospital in Oxford.
The convoy of hearses was escorted at walking pace as it approached the memorial garden in Carterton, where the Union Flag was flying at half-mast.
The cortege came to a halt while the relatives of the servicemen placed red and white roses on top of the vehicles.
As the hearses pulled away spontaneous applause broke out.
Sgt Taylor, of the Royal Marines, and L/Cpl Foley, of the Adjutant General's Corps, were killed at the entrance to the UK headquarters in Helmand province.
The Royal Marine, from Bournemouth, leaves behind his wife Nicola and son Roan.
Sgt Taylor's commanding officer, who cannot be named because of the nature of his work, described him as "a natural leader with inspirational flair who was devoted to his family".
Burnley-born L/Cpl Foley, of the Adjutant General's Corps, leaves his wife Sophie and their three sons.
In a statement L/Cpl Foley's family said: "He will be sorely missed by his family and friends and everyone privileged to serve with him both on his last tour and during his military career."
Messages to the men were left on small wooden crosses planted in the memorial garden.
One read: "In memory of Sgt Luke Taylor - A navy boy, who got sea sick - have you ever heard anything like it. Peace be with you. Love Erica."
A cross placed in the ground by Sgt Taylor's Auntie Trish, said: "In remembrance of a very special man. You will always be in our thoughts."
Among the crosses were photographs of the men and floral tributes were placed at the bottom of the flag pole.
Capt Bowers was described on one of the crosses as "a true hero" who made "the ultimate sacrifice".
L/Cpl Foley's three sons simply wrote "Dad, love Calum, Warren, Jake".
The shooting at the base in Lashkar Gah was the latest in a string of "green on blue" attacks in which members of the Afghan security forces have opened fire on international allies.
A total of 407 members of UK forces have died since operations in Afghanistan began in October 2001.