Murder drew media spotlight to Florida city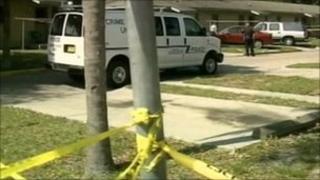 The murder of two British tourists drew international media attention to the Florida city of Sarasota.
Every year thousands of tourists flock to the "sunshine state" in search of stunning scenery and beautiful weather.
But the deaths of James Cooper and James Kouzaris shone light on a dark underbelly beneath the sunny surface.
The mayor of Sarasota spoke of a "tale of two cities" with wealthy holiday resorts alongside extreme poverty in the south-west city.
Speaking not long after their deaths, the then Mayor Kelly Kirschner said the city contained culture, arts and beautiful beaches - but also communities at the opposite end of the social scale in terms of wealth.
According to FBI figures, 101,969 violent crimes were recorded in Florida in 2010 - the most recent full figures - equating to 542.4 violent crimes per 100,000 inhabitants.
Youth gangs
This was lower than figures for 2009, which showed 612.5 violent crimes per 100,000 people, but remained towards the higher end of the scale for rates in the US.
The Florida Gang Investigators Association (FGIA) said there were more than 20 youth gangs operating in the wider Tampa Bay.
Picturesque central Sarasota is just two miles away from Newtown, an impoverished area devoid of businesses or shops, where the friends were killed.
Late at night, police cars patrol regularly in a bid to cut crime but officers said they would definitely not venture into the area as civilians.
But despite the bad publicity and fears it would affect wider tourism, the murders of Mr Kouzaris and Mr Cooper last year did not cause a slump.
Virginia Haley, president of the Sarasota Convention and Visitors Bureau, said they had actually seen a rise in tourism.
"We obviously monitored this tragedy very closely, and we really haven't seen an impact from a tourism standpoint," she said.
"Our UK-based PR firm closely monitored for any reports of cancellations from the tour operators and there were none. That is also the case now."
She added: "This is a very safe and friendly city but like any vacation destination you always have to use good sense so if you are going out partying with friends pre-arrange a car service to take you back home."
Captain Paul Sutton, from Sarasota Police Department, said until the killings in April, there had been no murders in Sarasota in 2011.
In total last year there were seven murders in the city - which has a population of about 52,000 but including tourists and visitors is around 100,000 on a day-to-day basis - and those seven included Mr Kouzaris and Mr Cooper.
Mr Sutton said tourists were intelligent enough to know crime could happen anywhere.
"I think the British are very intelligent people, they grow up hearing stories of Jack the Ripper but they didn't avoid London because crime can happen anywhere," he said.
"I have seen crimes happen in neighbourhoods I couldn't even dream of living in."
'Isolated incident'
But he added: "The area where the tourists were shot is not an area that is frequented by tourists.
"We have had no other tourists who have been victims of serious crimes, this was an isolated incident."
He added that despite the neighbourhood's reputation, it was residents - including friends of Tyson - who were key witnesses in the case.
"The arrest was made because neighbours came forward and testified against one of their own neighbours," he said.
He added: "Tragic incidents like this homicide can happen anywhere.
"Once they happen, the only thing you can do is investigate it and try to bring justice to the families."