Toads moved for new Jaguar Land Rover plant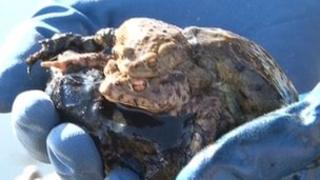 Thousands of toads are being moved this week to make way for a £350m Jaguar Land Rover (JLR) facility.
About 4,000 toads are at the i54 business park site on the Staffordshire-Wolverhampton border.
They will be moved into a wetland area created for them at the site in a scheme involving Staffordshire County Council and the area's wildlife trust.
The luxury carmaker, owned by Indian firm Tata, has said it was creating up to 750 jobs in the area.
'Very delicate'
JLR is investing to build low-emission engines.
About 20 volunteers from Staffordshire Wildlife Trust have come together for the initiative to move the toads.
County councillor Mark Winnington, cabinet member for environment and assets, said re-homing them was "a very delicate operation".
He said: "With such a large number amphibians at i54 South Staffordshire, this is a regionally important population and we need to make sure they are safe.
"Although they are not a protected species, we have a responsibility to make every effort to look after the toads."
Mr Winnington said biodiversity experts had carried out in-depth ecological assessments to ensure "they are moved to a suitable location where they can continue to thrive".
Plans to build the JLR facility were given the go-ahead by South Staffordshire Council in December last year.
The authority, Wolverhampton City Council and South Staffordshire Council were involved in a bid to attract the company to the site.
The JLR group, based in Gaydon, Warwickshire, produces Land Rovers in two plants in Solihull in the West Midlands and in Halewood in Merseyside, while Jaguar models are produced at the Castle Bromwich plant in Birmingham.
It said it expected the i54 site to create up to 750 engineering and manufacturing posts, along with hundreds more jobs in the supply chain and the wider UK economy.