Kent art exhibition's Thames Estuary airport warning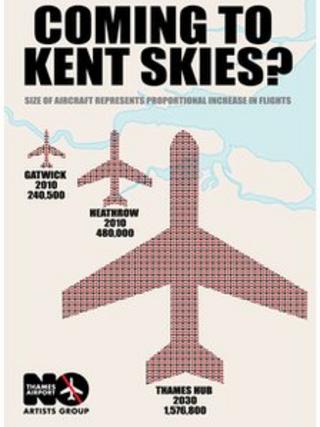 An art exhibition has opened in Kent warning of the potential environmental effects a new Thames Estuary airport could have on the county.
There is strong local opposition to the proposals and now a group of nine artists has put together an exhibition at the Nucleus Art Gallery, in Chatham.
They said it was to counter the "visual propaganda" of the computer generated images launched alongside the project.
The plan is one of several options to be considered by the government.
'Airbrushed'
Kevin Clarkson, who is one of the artists, said: "The exhibition will give a snapshot of what the Thames and Medway estuaries mean to their communities and highlights the devastation an airport twice the size of Heathrow would have on health and the quality of life of people living there.
"These are issues airbrushed out of the visuals we have all seen that have been issued by [the project's architects] Foster and Partners."
Sir Richard Branson, owner of Virgin Atlantic, has called for a third runway to be built at Heathrow and said it was better to expand Heathrow than build an airport in the Thames Estuary.