London & Westcountry Estates in administration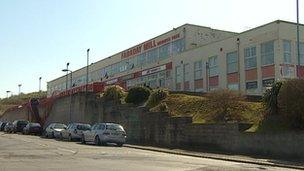 A Plymouth-based firm which owns industrial estates in Devon and Cornwall has gone into administration.
London & Westcountry Estates owns and manages 27 business parks in south-west England and has about 300 tenants.
Administrator Ernst and Young said the firm would continue to trade as buyers were sought.
Company founder Mike Hockin said that he believed the company would carry on operating.
Mr Hockin and his wife, Diane, started the company in 1983 at Sugar Mill in Plymouth.
Mr Hockin said: "We built it from scratch and worked at it for years.
"We never had a penny off government and we had a living business creating business units."
The company had problems with fixed-rate loans when interest rates fell during the recession.
Chris Marsden, joint administrator, said in a statement: "It is our intention to continue to trade London & Westcountry Estates Limited as we seek offers for the sale of the business and assets.
"During this period, we are committed to ensuring continuity of service for the tenants of the company's properties."
Charles Howeson, chairman of Plymouth Area Business Council, said: "It is extremely sad that this well run and mature company has become a victim of the banking recession.
"The Hockin family have done really well to build up this company and the business community offer them our sympathy.
"Let us always remember that without an entrepreneurial spirit and entrepreneurs our economy will never grow."
Chris Dawson, who leases part of the Sugar Mill estate for homeware business The Range, said it would not affect the firm which had a "long and strong lease".
He said: "It is always sad when this sort of thing happens, but everything is safe from our point of view."
Related Internet Links
The BBC is not responsible for the content of external sites.