Campaigners welcome debate on assisted dying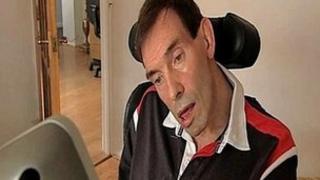 Tony Nicklinson, who is paralysed and has locked in syndrome, can't speak and communicates through his wife. Jane.
Just over two weeks ago a High Court judge ruled that he should be allowed to proceed with his "right-to-die" case.
The former Kent-based Cranbrook rugby player, has been paralysed since suffering a stroke seven years ago.
Currently if he's helped to die, those who assist him could be charged with murder.
His wife says it's time politicians addressed the issue and welcomes today's debate.
Assisted suicide
Jane Nicklinson says: "The debate today in the House of Commons is definitely a step in the right direction - albeit a very small step.
"It's nothing like what we're after but any debate is good debate for us."
It was a backbench debate so will have no effect on government policy but was significant because it was the first full assisted suicide debate on the floor of the chamber since 1970.
It comes after the Director of Public Prosecutions published new guidelines, which said any decision about whether to prosecute someone should take account of their motivation and whether they stood to gain financially.
Some MPs are calling for the guidelines to become enshrined in law.
The Green Party leader and Brighton Pavilion MP, Caroline Lucas, says the new guidelines are important because:
"It's precisely the knowledge that they have control over when they are able to die that allows them to live more full and often for longer."
Vulnerable people
But critics say people should be "very wary" of changing the law.
Baroness Finlay of Llandaff, who is Chairwoman of the All Party Parliamentary Group on Dying Well, says:
"When people are ill they are vulnerable to influence by family, friends and particularly those providing care for them.
"It is only too easy for them to be persuaded, either actively or passively, that they would be better off dead".
Campaigners say the debate is a positive move but the government has no current plans to change the law when it comes to assisted dying.