Fuel strike threat: Tankers are like 'moving bombs'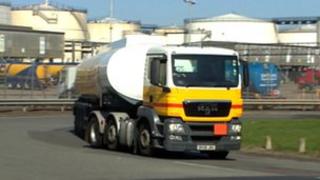 Roger Deaville knows the dangers faced by fuel tanker drivers. He used to be one and since 1986, his north Staffordshire-based company has trained them.
"It's a moving bomb," said Mr Deaville.
"They do get good pay, but they do deserve it because at the end of the day we're putting a lot of people's safety in their hands.
"When you consider the implications of them doing it wrong - nobody looks at that side of it - the actual responsibilities they have with that vehicle."
Earlier this week, fuel tanker drivers voted in favour of industrial action in a dispute over safety and working conditions, although no strike dates have been set.
'Highly rewarded'
But employers have argued that the drivers are well paid and there is a strong commitment to health and safety.
"Tanker drivers are treated so well," said Chris Kingshott, managing director of Wincanton, one of the largest fuel delivery companies.
"They have the best pay packet, they have the best pension package - their working conditions, we can only dream of in general haulage.
"It's not the tanker drivers in my opinion, this is all about Unite wanting to rock the boat."
Tanker driver and Unite member Nick Dennis, from Grimsby, North East Lincolnshire, said: "We're not making this decision lightly.
"I can assure you that we've accepted every single point that the general public have said, that's why we haven't called it [the strike]."
Mr Dennis, who has been driving tankers for the last 18 years, admitted that they are "highly rewarded", but insisted that they earn their money.
"Drivers can start at two in the morning and work until two in the afternoon. I have one weekend off every 14 weeks - that's the way my shift patterns work.
Emotive issue
"So my family life and my social life is totally devastated."
And the 49-year-old said there were important differences between tanker drivers and other HGV drivers.
"I'm like a brain surgeon consultant in my line of work," he said. "People want to know that each truck is driven by a highly-qualified professional driver.
"We can't park and leave our vehicles under ADR [European agreement concerning the carriage of dangerous goods by road] regulations as we must always be in view of our vehicles to be able to react in case of emergencies.
"So we don't technically ever have a break away from our job. We sign declarations certifying that fuel is safe... so we carry all that responsibility with us all the time."
Mr Deaville, who runs Transed Training, admitted that the issue had become "very emotive" and that a strike would affect "many people's lives".
He said that the general public did not really understand drivers' grievances.
"Historically, Shell drivers, BP drivers, they were all employed by the major oil companies directly," he said.
"Over the years... they've outsourced deliveries to third party hauliers and the drivers drive for them now.
"Originally the oil companies used to give out 10-year contracts to the hauliers, but it's slowly been eroded to three or four-year contracts.
'Dangerous game'
"And any new contract - like in many other businesses - is generally awarded on price.
"Ultimately, these guys who are quoting for these contracts have got to make money out of it, and have to squeeze as much as possible out of the drivers.
"And what you don't want is a stressed driver out there with 36,000 litres of petrol behind him.
"It's just the pressure of getting to and from these deliveries to pick up your bonus.
"But some of the drivers I talk to would like a pay structure that's less reliant on bonuses."
Mr Dennis, who has been doing the job for 18 years, said that his salary was not made up of bonuses, but he was concerned that some tanker drivers do not have enough training.
"A lot of the contractors who won the oil companies' business won it on the professional skills and expertise of their tanker drivers.
"But now, more and more are winning contracts based on price - which is a dangerous game."