'Huge rise' in hospital payout packages for staff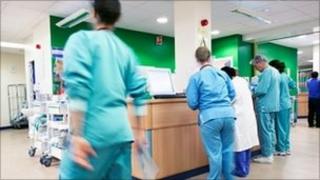 The cost of exit packages paid out by hospitals in the East of England in a bid to cut staff numbers has increased significantly, the BBC has learned.
Figures from 16 hospital trusts, which provided information for the current financial year, revealed the combined spending on staff exit packages had risen more than eight-fold since 2010.
More than £5m has been paid out by the trusts so far in 2011-12, compared with £1.65m the year before and £605,000 the year before that, according to figures obtained from a Freedom of Information request.
About 335 jobs were lost or are in the process of being cut at these hospitals during the current financial year. The figures do not include departing workers who were not entitled to redundancy, or severance payments.
Figures seen by the BBC also suggest the amount paid by all NHS trusts across England more than quadrupled in 2010-11 on the year before.
In the East, Kettering General Hospital topped the list, spending £1.09m so far this year on 63 departing staff.
The trust said the staff came from all departments, mostly clerical and administrative, but also a number of nurses, facilities staff, senior managers and technical officers.
Department reorganisation
The Cambridge University Hospitals NHS Foundation Trust (CUHFT), which includes Addenbrooke's Hospital, spent £780,000 in pay-offs to 51 staff in 2011-12.
It comes amid criticism of the trust's financial performance by the regulator Monitor.
Correspondence seen by the BBC describes how the trust had "lost financial control over its divisions particularly in respect of payroll costs", noting an "absence of a strategic approach to financial planning".
In the documents, the trust board admitted "we lost control of the headcount".
In a statement, CUHFT said: "We have welcomed the constructive dialogue that has helped us address the issues raised and to ensure we are on a sound financial footing for the future."
Other notable pay-outs in 2011-12 included £148,000 to one departing member of staff at Northampton General Hospital and £98,000 to another at Hinchingbrooke Hospital. It is understood both recipients worked in clinical roles.
'Improve patient care'
At the Peterborough and Stamford Hospitals Trust, voluntary severance applications were accepted from mainly administrative, clerical and management staff at a cost of £992,000.
The Luton and Dunstable Hospital also said the majority of the 25 staff who were paid to leave this year were in administrative and clerical roles.
Of the trusts which did not to disclose figures, Ipswich Hospital, confirmed it was also seeking an unspecified number of redundancies. Bedford Hospital is also currently consulting on 94 job losses.
Redundancy and severance costs are often referred to in trust accounts as "termination benefits" and many across the NHS in England are offering departing staff terms under what is known as the Mutually Agreed Resignation Scheme (MARS).
Across England, £120.6m was paid out in redundancy and severance by foundation and other NHS trusts in 2010-11 compared to £29.9m in 2010-11. The figures for 2010-11 are still being compiled.
Hospital trusts are currently engaged in cost-saving programmes and several in the East have said that job cuts were the result of departmental reorganisations.
Bedford Hospital, for example, is currently seeking to merge some wards and change working practices which they say will improve patient care.