Drought conditions confirmed in parts of Yorkshire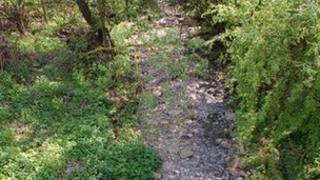 Parts of Yorkshire are officially in a drought, according to the Environment Agency.
The decision to declare a drought in parts of North, South and East Yorkshire was taken after several months of below-average rainfall.
Restrictions on water abstraction by farmers and other businesses have already been imposed in some areas.
The drought conditions are not expected to affect the public water supply, the agency said.
The worst-affected areas are the catchments of the River Don and River Rother in South Yorkshire; the River Hull catchment in East Yorkshire, and the catchment of the River Derwent in North Yorkshire.
'Limited resource'
The agency said rainfall figures suggested the Hull and Don catchment areas had had the second driest year on record since 1910.
Ben Hughes, the Environment Agency's drought manager for Yorkshire, said: "We have been working with Yorkshire Water and it is not anticipated that there will be an impact on public water supplies at this stage.
"However, we expect to see lower river levels, and some small springs and streams drying up, which will affect people who use those waterways, as well as fish and other wildlife."
Mr Hughes warned if the drier conditions continued then more businesses licensed to abstract water could be affected.
He said: "We are appealing to all water abstractors, including farmers and businesses, to look for ways to share and make the best use of a limited water resource."
Yorkshire Water said it was encouraging customers to do all they could to conserve water.
BBC Look North weather presenter and climate correspondent Paul Hudson said: "The current dry spell would have to last many more weeks for Yorkshire Water to start thinking about the possibility of restricting supplies to consumers, as has been the case for Anglian customers in Lincolnshire and parts of Nottinghamshire, who face a hosepipe ban from 5 April.