Festival for Ou Est Le Swimming Pool singer Charles Haddon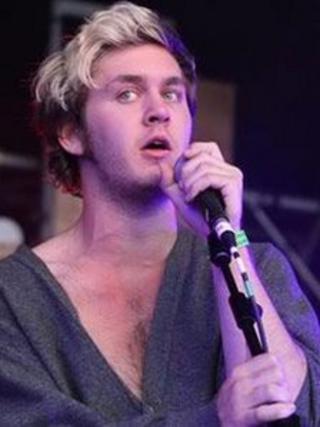 Musicians who knew Charles Haddon united in grief when the singer ended his life after performing in Belgium. Now, some of them are uniting again for a festival in his memory.
Friends of the Ou Est Le Swimming Pool frontman knew he had dreamed of holding his own music festival from a young age.
He had even thought of a name for it - Chazzstock.
Now his friends and family are holdingChazzstockthemselves - not only in his memory, but also to raise money for the Prince's Trust.
One of the main organisers is Jack Bissell, Mr Haddon's best friend.
"He just loved the idea of putting on a music festival," said Mr Bissell.
"It summarises the person he was. He wanted friends and family to have a brilliant time.
"It was something that every one of his friends knew he wanted to do."
Mr Haddon, also known as Charlie or Chazz, had been living in London with his band when he became friends with Mr Bissell, who is from Camden.
Worried about girl
Mr Bissell, 23, used to accompany the band on tour but was not with them in August 2010 at Belgium's Pukkelpop festival, where his best friend died.
He believes the 22-year-old ended his life because he was worried a girl in the crowd had been injured when he stage dived.
Initial reports suggested he died after leaping from a telecommunications mast, but at an inquest his cause of death was found to be hanging.
After hearing Mr Haddon had died, Mr Bissell went to stay with his friend's parents in Northamptonshire and still visits them regularly.
Chazzstock is being held at Stanford Hall in Lutterworth, Leicestershire, which is a short distance from their home.
"What's really nice is that everyone is playing a part, from Charlie's closest friends and family to people who only met him a couple of times," said Mr Bissell.
'Encourage talent'
In October 2010 a fundraising concert in Mr Haddon's memory was held at KOKO, a nightclub in Camden, and artists who played there included The Kooks, Mr Hudson, Tony Hadley from Spandau Ballet, The Horrors and The Vaccines.
These latter two bands will headline the not-for-profit Chazzstock, which is being held on 9 and 10 June.
They are performing for free because many of the members were personal friends of Mr Haddon.
He and Freddie Cowan, guitarist with The Vaccines, were in their first band together, called Daze.
Unsigned bands have also been invited to put themselves forward to play at the festival, as the organisers want to encourage and support young and upcoming talent.
"There is a dark story behind this but we only want the festival to be a positive thing," said Mr Bissell.
"Every decision we've made is with Charlie in mind."